Are You More Concerned About What You Reap?
Cliff Young, Crosswalk.com Contributing Writer
Tuesday, August 27, 2013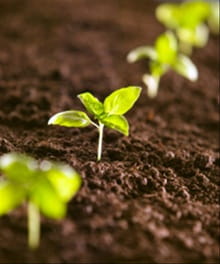 Editor's note: This is the second of a three-part series based upon Galatians 6:7 and The Law of the Harvest. Read part 1 here.
Do not be deceived, God is not mocked; for whatever a man sow, this he will also reap (Galatians 6:7).
In Part 1, we learned...
1. We reap much we did not sow.
2. We reap the same kind as we sow
As we discovered in What Are You Sowing? sometimes we are the fortunate (or unfortunate) recipients of what we did not sow and other times we reap exactly what we sow, for better or for worse. As we delve further into The Law of the Harvest we find more of what may seem like "unjust" consequences.
3. We Reap in a Different Season Than We Sow.
When I think back to my grandfather and of all those who share in his farming profession, they sure have a grasp of this law. In fact, it seems clearly obvious - you plant, and a season or two later, you hope to reap.
Back in grade school I had an assignment to plant a seed in a jar with hopes of growing something. It seemed like it took forever for a sprout to appear and nothing I did would make it happen any sooner – more sunlight, water, nutrients, nothing. It was a matter of waiting for the season of "harvest," and the same goes for us in many ways.
"Wait for the LORD; be strong and take heart and wait for the LORD" (Psalm 27:14).
This has to be one of our most despised topics in the Bible and can seem like a cruel sanction against the unmarried – waiting.
We spend time in His Word, we get involved and serve in ministries, we put ourselves out in social settings and activities, and we even join on-line dating services, but still don't "find" that special person, instead we hear "just wait on the Lord" (and for the third law of the harvest to take effect).
Through the years I have found this law to hold true in other areas like, what "seemed" to be futile at times, the effort put into the lives of young people has not only become a ministerial highlight, but also a source of some of my most treasured relationships. I could have never envisioned the hours spent sowing decades earlier would result in seeing amazing mature men and women of god, receiving encouragement in return, opportunities to join them and their families on occasion and lifelong friendships.
For what I have sown in the past, I am reaping now and in abundance - the fourth law of the harvest.
4. We Reap More Than We Sow.
When we sow unconditionally not expecting anything in return, our "reward" will oftentimes come in many different forms and for many years to come. I regularly feel unworthy of the love and friendships I have received as a result of (just) time I invested in others.
Perhaps you have been serving for years never realizing the fruits of your labor. Maybe you have stayed "pure" waiting for the "right" one to come along. Take comfort in knowing you will be amply rewarded for your faithfulness….someday.
The one who blesses others is abundantly blessed (Proverbs 11:25).
A number of years ago, a woman in Brazil named Augusta received a prophetic word and vision to be the nanny for a specific family in New York. She was hired and did whatever she was asked, singing in Portuguese as she worked. When Kenya, the woman of the house who understood the language, asked why all of Augusta's songs were about Jesus, Augusta told her she was sent to share the gospel, lead them to Christ so they could be in ministry.
Have something to say about this article? Leave your comment via Facebook below!
advertise with us
Example: "Gen 1:1" "John 3" "Moses" "trust"
Advanced Search
Listen to Your Favorite Pastors