Are You More Concerned About What You Reap?
Cliff Young, Crosswalk.com Contributing Writer
Tuesday, August 27, 2013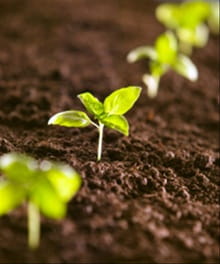 That couple was Stephen and Kenya Baldwin.
Since then, Stephen, well-known Hollywood actor, has teamed up with Evangelist Luis Palau's son, Kevin, to produce outreach films and events targeting the skating community. He is now often referred to as a Jesus Freak by his family and colleagues in Hollywood and is known for his outspoken conviction.
Just as a small seed from a farmer's hand can produce an abundant crop, Augusta's small seed of faith from Brazil has reached thousands of young people throughout the United States and beyond, all because of her obedience to sow the seed she was given.
5. We Reap in Proportion to what We Sow.
Whoever watches the wind will not plant; whoever looks at the clouds will not reap. As you do not know the path of the wind, or how the body is formed in a mother's womb, so you cannot understand the work of God, the Maker of all things. Sow your seed in the morning, and at evening let not your hands be idle, for you do not know which will succeed, whether this or that, or whether both will do equally well (Ecclesiastes 11:4-6).
There are so many benefits of technology; however, I am convicted by this passage at how much I use and depend upon it in my everyday life.
Oftentimes before I decide to do something, I check the current and projected weather, I determine if there is traffic between me and my destination, I retrieve any messages which may need my immediate attention, I check to see what and where others are at that moment, etcetera.
I allow myself to consider so many things at times it's difficult to even make a decision. Some may call it overthinking a situation, others a waste of time and effort, but simply put its stagnation by complication.
Instead of worrying about all of the possible outcomes in every situation, Ecclesiastes says to just do something.
Periodically I run into this dilemma when I come upon someone in the street. How did he end up there? What do I give him? I wonder how he's going to spend it. What if he uses it for something other than his sign states or what I don't consider "worthy"? Does he really need it at all?
Instead of having all of the answers and knowing all of the circumstances sometimes we're just supposed to sow, and let God deal with the rest, including what we may (or may not) reap as a result.
Now this I say, he who sows sparingly shall also reap sparingly; and he who sows bountifully shall also reap bountifully (2 Corinthians 9:6).
We have all heard stories of those who gave out of obedience and received the exact same amount back in some other way, and I'm sure we've all felt like we've sowed with nothing to reap. Don't get caught up with "things needing to be fair," whether it is or not in reality or in our mind, it shouldn't matter.
Jesus told Martha, "You worry and fuss about a lot of things. There's only one thing you need. Mary has made the right choice, and that one thing will not be taken away from her" (Luke 10:41-42).
Make the "right" choice in how you sow and don't worry about when, what and how much you reap.
Cliff Young is a contributing writer to Sandlot Stories (ARose Books), as well as the monthly column, "He Said-She Said," in Crosswalk.com's Singles Channel. An architect and former youth worker, he now works with Christian musicians and consults for a number of Christian ministries. Got feedback? Send your comments and questions to cydmg@yahoo.com. Find him on facebook and twitter.
Publication date: August 27, 2013
Have something to say about this article? Leave your comment via Facebook below!
advertise with us
Example: "Gen 1:1" "John 3" "Moses" "trust"
Advanced Search
Listen to Your Favorite Pastors