Are You Really Ready for Love? Honor Your Mate's Uniqueness
Dr. David B. Hawkins, The Relationship Doctor
Monday, January 23, 2006

Second, consider how much those things that annoy her are likely to change. Can the issues on the second list things be adjusted, or at least discussed? Are they likely to change? Some of her issues could be discussed and perhaps even be altered. His driving, for example, if particularly troublesome, was something that could be adjusted through honest discussion.
Third, could she accept the things that were not likely to change? Could she remind herself that the very things she previously appreciated could possibly be appreciated again? Sometimes we let ourselves brood over inconsequential matters. It is important that we practice putting things in perspective. While I don't recommend making molehills out of mountains, I also recommend keeping molehills, molehills.
Fourth, honor and respect her mate's uniqueness. Sometimes simply the act of championing our mates not only builds them up, but makes us appreciate them more, too. The Apostle Paul tells us to only use language with one another that builds them up according to their needs. (Ephesians 4: 29) Our mates need us to encourage them, to build them up. The world is full of criticism and defeat. Our homes and relationships need to be places where we are affirmed.
Finally, remembering this helps Stephanie put things in perspective. She remembers that she is not perfect, and it is immature to expect perfection from him. She decided she would talk to Jerry about some of the things that were bothering her, and to work within herself on some of the things that seemed inconsequential.
How about you? Are you making mountains out of molehills in your relationship? Are you able to see the larger picture when it comes to your mate? Are you able to remember why you fell in love with him or her in the first place, and keep that in the forefront of your mind? If so, you may really be ready for love.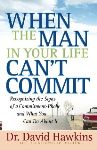 David Hawkins, Pd.D., has worked with couples and families to improve the quality of their lives by resolving personal issues for the last 30 years.

He is the author of over 18 books, including Love Lost: Living Beyond a Broken Marriage, Saying It So He'll Listen, and When Pleasing Others Is Hurting You. His book, When the Man in Your Life Can't Commit, released in February 2006. Dr. Hawkins grew up in the beautiful Pacific Northwest and lives on the South Puget Sound where he enjoys sailing, biking, and skiing. He has active practices in two Washington cities.




Have something to say about this article? Leave your comment via Facebook below!
advertise with us
Example: "Gen 1:1" "John 3" "Moses" "trust"
Advanced Search
Listen to Your Favorite Pastors