Car Buying Made Fairly Simple and Kind of Fun
Susan Ellingburg, Crosswalk.com Contributing Writer
Tuesday, June 26, 2012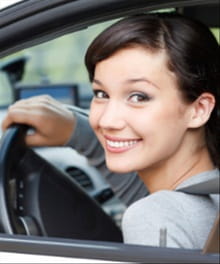 It was love at first sight. We went everywhere together until the day I got the call … "The rack and pinion is shot, the strut is about to break, the fan is burned out …" The mechanic's voice faded as I faced the horrible truth. The relationship between me and my car was over.
Buying a car is often stressful, especially for a single person like myself who's not automotively inclined. Oh sure, I listen to Car Talk and watch Top Gear (the British version) but that's just entertainment. When it comes to actually putting money on the table, things get serious. In the end, though, I drove away happy—and you can, too. Here are a few things I learned that may help when you have to buy a new (or new-to-you) vehicle.
First Things First: Take Stock
What do you need? Think about your driving habits and lifestyle. Do you need a car small enough to fit in tight parking spaces or a vehicle large enough to haul large loads? A functional back seat? A trunk that will hold golf clubs? Manual or automatic? New or pre-owned? You'll want to narrow the field. In my case, I wanted a car that was fun, reliable, and road-trip worthy.

What do you want? Sure, you need to be practical, but if you're going to spend that much money it ought to be on something you at least like. It will make writing the check much less painful. (For me, this meant four-door matron-mobiles were out.)

What can you afford? It's vital to figure this out before you go shopping. No shiny automotive masterpiece is worth getting in over your head. Car salespeople are masters of persuasion—you have to know your limits before you start talking to them. Edmunds.com (among others) offers a free "affordability calculator" that may help your calculations at http://www.edmunds.com/calculators/affordability.html. If you'll be financing, know your credit score and the going interest rates on auto loans.
Next: Explore Your Options
In this electronic age you can do a lot of hassle-free info-gathering online, but I didn't really know what I wanted … so I enlisted two friends for a fact-finding mission. In my fair city, dealerships line both sides of our major highway—so we started at one end, worked our way up one side and back down again. We cruised through lots with our noses pressed to the windows and if one looked promising, we'd pull in for a visit. I then informed the salesman (they were all men), "I'm looking for something with personality that's reasonably practical and will comfortably hold the three of us plus luggage."
This worked beautifully: my friends tried out the backseats, distracted the salespeople so I could concentrate on the cars, and talked me down when I wanted to throw common sense to the wind and buy the most adorable (but completely impractical) convertible. Plus, we didn't take my car so when one eager beaver wanted to appraise my trade-in I could honestly say, "My car's at home." Once we'd seen and discussed all the options, I went home for further research, thought, and prayer.
Do Your Research
Once I decided on a make and model, I spent the next week doing online and phone research to see what was available and what they cost, reading reviews, and determining my current car's potential trade in value. My PT Cruiser, meanwhile, was gushing fluids, making horrible noises, and showing an alarming antipathy to shifting to second gear. As much as I wanted to wait until the end of the month (when the best deals are often to be had), I wasn't sure she'd last that long. So I gathered my paperwork, collected a friend for moral support, and called my favorite salesman. This is where things can get sticky—but they don't have to.
Have something to say about this article? Leave your comment via Facebook below!
advertise with us
Example: "Gen 1:1" "John 3" "Moses" "trust"
Advanced Search
Listen to Your Favorite Pastors