Caregiving: I Am My Brother's Keeper
Patricia A. Parham, Ph.D., Contributing Writer
Thursday, July 12, 2012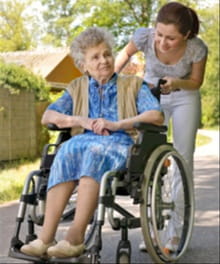 In the world of caregiving, you may be your brother's keeper, or your mother's keeper or your father's or your sister's. This is not an assignment that you requested.

You may resist, "There is no Florence Nightingale in here!" Nursing is not in the skill set, nor does the thought of feeding, changing diapers, or washing anyone over the age of two appeal. Somehow those preferences become irrelevant when someone you love needs you.

This is an opportunity, reframing what was formerly thought of as an unexpected burden, thrust upon you when a loved one can no longer fend for him or her self. When they need washing, you wash. When they need food, you cook. When they need to go somewhere, you drive. Heaven forbid that this occurs with both of your parents or any other couple, twins, siblings, friends or relatives, compounding the issue. For the sake of simplicity, let us think in terms of one parent needing care. However, it could be any one person whose needs you choose to put above your own. Always remember that this is a choice—your choice.

"Thou shalt love the Lord thy God with all thy heart and with all thy soul, and with all thy mind. This is the first and great commandment. And the second is like unto it, Thou shalt love thy neighbor as thyself" (Matthew 22:37-39).

Nothing else in your life has changed. You still go to work and/or school, take care of others, clean house, work in the yard, attend church, volunteer for your favorite organization, play cards or tennis or basketball or your favorite game. There are still 24 hours in a day and you must pay bills, exercise, take out the garbage and wash the car. You still want to ride a bike through the arboretum on a nice spring day, read a book on the patio, go to a movie, or play video games until bedtime. Your life is full and you are reasonably happy with the world you have created for yourself.

Whether the need for caretaking creeps up on you with small tasks that begin to accumulate, like stopping by to take Mom to the grocery store every week, then helping pay bills and balance the checkbook while you're there, or a catastrophic illness renders your father unable to take care of himself for the next three-to-six months and he needs food three times a day and bathing or changing bandages, it is a shock—
Shock that these previously independent people are fallible, hurting and needing your care.

Shock that paying for routine services is cost prohibitive, unless you, or they, are independently wealthy.

Shock at how much time it takes to visit, provide a service and return to your life.

Shock at how often the service is needed and that the list of needs is growing exponentially!

Shock that no one else will take on this responsibility.

Shock that life as you knew it is no more!
By the time you reach shock, you have moved beyond denial and figured out that there is no easy or quick fix. If you are fortunate, there is a light at the end of the tunnel, at which time independence will be restored. Unfortunately, this is rarely the case. Oftentimes, when rehabilitation or long-term care is involved, regardless of the age of the person, full recovery eludes them. Parents who deteriorate physically or mentally never return to "normal." You study to quickly become an expert on senior services, rehabilitation services, in-home care services, assisted living services, or long-term care services. None provides exactly what you want at a price you are willing to pay! How do you cope with the less than optimal options and answers that you discover?
Have something to say about this article? Leave your comment via Facebook below!
advertise with us
Example: "Gen 1:1" "John 3" "Moses" "trust"
Advanced Search
Listen to Your Favorite Pastors