Dating as a Single Parent
Cliff Young & Laura MacCorkle, Crosswalk.com Contributing Writer & Senior Editor
Friday, August 26, 2011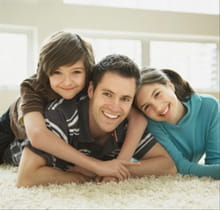 EDITOR'S NOTE: He Said-She Said is a monthly advice column featuring a question from a Crosswalk.com reader with responses from a male and female point of view. If you've got a question about anything related to singleness or living the single life, please submit it to He Said-She Said (selected questions will be posted anonymously).

QUESTION: As a single parent, is it better to seek out partners who have children or those without? And how long should I wait until introducing them to my children, even if they seem like "the one" and are eager to meet them?
HE SAID: I cannot answer from the standpoint of a single parent, since I don't have children, but I have dated single moms and have learned from friends who are.
Whether to seek out a partner who has children or one without is dependent upon you and the one you meet. Nowadays, it's easy to place people in categories (i.e. Single parent, Single, Divorced, 40's, etc.) and generalize. Oftentimes, when we actually get to know a person we find out they are quite different from the characterization we have placed on them.
The same goes for single parents. To seek out another single parent believing that person would better understand your situation or have the "qualifications" of being a parent may be true, but it may not be for that person you meet.
In the same way, to write off all singles without children because they can't know what it's like to raise a child alone may be a correct assumption; however, that person may have grown up in a single parent family and knows it from another side.
I would encourage you (and all singles) to be open-minded about whom you meet, and allow God to make the determination of what is "best" in your case. In other words, don't limit your prospects.
Determining when to introduce your prospective mate to your children is a very important decision to make as a single parent.
At the outset of the relationship, when you are just casually dating, there is no need for them to meet each other. Your date should know you have children and your children, should they ask, only needs to know you are going out with a friend, which is the truth.
Until you are in a committed relationship, you should refrain from allowing a connection to begin between that person and your child. Doing so would only add more confusion and disruption to an already difficult childhood, especially if things don't work out.
When both of you see your relationship leading toward a serious commitment, that is the time to introduce each other to one another, as well as have dates collectively and alone. Those outings with your children would be best if geared more toward them rather than yourselves (i.e. a park or zoo date instead of a romantic quiet dinner).
It is imperative to ensure all of you are compatible and for your prospective mate to experience your children in as many "normal" situations as possible prior to marriage. It's also important to allow ample time for your children to acclimate to the idea they may have a new "parent" and is something that shouldn't be rushed into. That person must be right for you and for your children.
Along those lines, to singles who are dating or may be dating a single parent, please keep in mind and encourage your date to place "parenthood" first and "single" second. A single parent may want to put more emphasis on their "new" relationship rather than on their child's. Don't pressure them into doing so nor allow them to. They are a parent first.
Have something to say about this article? Leave your comment via Facebook below!
advertise with us
Example: "Gen 1:1" "John 3" "Moses" "trust"
Advanced Search
Listen to Your Favorite Pastors