Dating as a Single Parent
Cliff Young & Laura MacCorkle, Crosswalk.com Contributing Writer & Senior Editor
Friday, August 26, 2011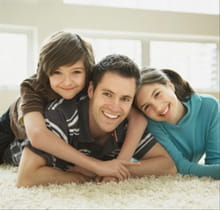 In addition, don't seek to start a relationship with the children until you are absolutely willing to follow through with a commitment to their parent in the location which is most conducive to the children. In many instances, children are moved away from the other involved biological parent based solely on the desires of the couple without much consideration given for the children.
For all singles, a dating relationship with a single parent is not the same as two singles and a conscious effort must be made to minimize any negative effects on the children involved.

SHE SAID: Since I'm not a parent, I have no idea what it must be like to decide how to go about dating when you're single with children. I'm sure you're struggling with wanting to do the right thing for your children, but also desirous of a relationship with someone which could hopefully lead to marriage.

So I think this situation requires first doing some interior work. I'm assuming that you are ready to start dating at this point. And that means you have had the time you need to heal from your prior relationship (with the other parent of your children). You have taken the time to process what you've learned from that experience and have been able to see where you need to make changes going forward—both in yourself and in what you're looking for in someone to date.

I believe that each relationship is allowed by God in our lives to grow us—whether they be painful experiences or not. And I've had both, as I'm sure you have had as well. While it still hurts to look back at the ones that didn't end well, I know that I must inspect these areas of my relationship history (some of them I would consider wounds that have not fully healed) in order to better understand myself and why I made the relationship decisions and/or mistakes that I did. Now, that's not something I relish doing. It's no picnic revisiting times of my life where I just completely failed and wasn't seeking the Lord and following his path for me.
But if I want to prepare myself for the person I hope to spend the rest of my life with as a mate (wherever he may be), then I know I must be working on myself and be aware of everything I'm bringing with me (baggage—everyone is carrying something), so that I can give these areas of my life to God.
I don't say all of this to discourage you (or me), but I say it because I know that God can redeem whatever we feel is a loss in our lives (Joel 2:25) and use it toward something good (Romans 8:28). I put my hope in these promises, and I hope that you will, too. God is bigger than any failure or failed relationship in our lives. And he uses flawed people (which is all of us!) to accomplish his purposes. (And if you don't agree with that, then read up on King David.)
Now, back to the assumption that you are ready to begin dating. I would encourage you to boil down what is most important to you when considering what you need in someone you would like to date and perhaps eventually marry. I would advise you to start out by casting a wider net when it comes to choosing between those who have children and those who do not. Why not pursue someone who simply "loves Jesus" and "loves children" whether a single parent or not? In the beginning, narrowing down your candidates to only those with children might eliminate someone without children who could be a terrific match for you (and your children) and might eventually be the one who not only loves you but also your children as his or her own. My advice is to stay a little more open-minded when it comes to the selection process—at least initially. You may decide later on, once you've been actively dating, that single parents are who you need to target if you feel that they would be a better fit for you and your children. Only you will know that for sure as you seek God's direction in your dating process.
Have something to say about this article? Leave your comment via Facebook below!
advertise with us
Example: "Gen 1:1" "John 3" "Moses" "trust"
Advanced Search
Listen to Your Favorite Pastors