Dating Non-Christians: Forbidden Fruit's Appeal - Part 1
Wednesday, January 25, 2006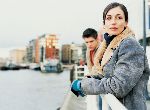 That realization should have ended my attraction. But I was drawn to this cute charmer who was showing interest in goody-two-shoes me!
In the weeks that followed, Jake and I exchanged flirty emails and occasionally hung out with his friends. When their conversation turned to drinking or their love of going to Hooters, I'd grow silent or roll my eyes and offer a speech about women not being objects – failing to mention, unfortunately, that our value comes from being made in God's image. Jake and his friends were more amused than convinced by my occasional ranting, so the conversations usually gave way to teasing arguments and laughter.
I told myself spending time with Jake and his buddies was harmless fun, maybe even God's answer to my prayer for more non-Christian friends with whom to share my faith. That is, until Jake asked me to join his family and friends for a weekend at a rented beach house. I was caught off guard. Suddenly my relationship with Jake didn't seem casual anymore.
Faced with the decision of whether or not to go, I finally asked a few Christian friends for advice. Maggie, a hopeless romantic, suggested that spending a weekend together would give me the chance to discuss matters of faith. Yet somehow I had the gut feeling the weekend would be more keg party than Kum Ba Yah. Max, my best guy friend, told me to run as fast as I could in the other direction – not just from the invite, but from Jake in general.
I figured I needed more info to make the right decision, and sent a breezy email to Jake asking about the weekend sleeping arrangements and whether or not there would be lots of drinking. He replied that while there might be some drinking, I wouldn't have to be involved. "You'll have a bed to yourself all weekend, and I appreciate your conservative views; it's part of what makes you YOU," he wrote, adding a smiley face next to it. After reading Jake's email, I felt giddy with the excitement of having someone interested in me – and guilty that Jake still didn't know the biggest part of what makes me me: Jesus Christ.
Friends to the Rescue
Camerin: I finally made my decision about the weekend – and Jake – after I had dinner with Kate, a friend from church. As we wolfed down chips and salsa, I filled her in on Jake's invitation to the beach house. Usually one of my biggest cheerleaders, Kate listened quietly to my whole spiel, then paused thoughtfully for a moment. "You know, I'm glad you finally brought up this whole Jake thing," she said. "I've been worried about you for some time." Really? Now it was my turn to listen intently.
"What are you doing with this Jake guy? You know he's not a Christian, right? You can say it's casual, but I see your face light up when you talk about him," Kate said, as my face now grew red with the embarrassment of hearing the truth – which I'd previously denied to others and myself. "He's not worth it. He's not worth you."
In the silent moments that followed, I finally faced the fact that I'd only been fooling myself. I'd fallen for Jake with each interaction, flirtation, and teasing email. I also realized most of my attraction had been to his attention. I was one of the many affected by the dating drought in Christian circles, and it had been a while since anyone had shown interest in me. Jake's emails, in which he'd openly expressed his attraction to me, had been refreshing. As a woman, I longed to catch someone's eye, to be pursued romantically. And with no Christian guys stepping up to the plate, I, like many other single Christian women, was faced with a dilemma: a non-Christian or nothing.
Have something to say about this article? Leave your comment via Facebook below!
advertise with us
Example: "Gen 1:1" "John 3" "Moses" "trust"
Advanced Search
Listen to Your Favorite Pastors