Defining Your Dating Style: The Guided Path – Part II
Rick Holland, Author
Wednesday, September 28, 2005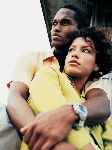 The Guided Approach
The approach I take to dating relationships is called "guided." I call it this because people who follow it are guided through relationships by honoring principles given in the Bible. But I want to make it clear: These are guides, not formulas.
The New Testament addresses a battle for balance between two extreme approaches to godliness: legalism and libertinism. These two extremes have a parallel in the dating debate. Dating without a plan can easily become too loose. Courting without wisdom can easily become legalism. In its extreme, dating becomes an anything-goes free-for-all in which the man and woman concern themselves with the pleasure of the romance instead of the good of each other. Courting in its extreme becomes an infatuation with a process instead of an evaluation using biblical principles.
The Purpose of Premarital Relationships
Premarital relationships should serve one purpose: to test the relationship for marriage. Let me say it another way: There is no good reason to have a girlfriend or boyfriend until a person is ready to get married! I hope the implications of this statement are obvious. Readiness involves being old enough and mature enough to assume the responsibilities of marriage. No romantic relationship should ever begin unless marriage is the possible - even probable outcome. That said, it is difficult to justify the romances of junior high and high school. If one is not ready to get married, he or she is not ready to date or court.
So what about Jenny and David? They are juniors in high school. They are both Christian and involved in their church. Both get that funny feeling in their stomachs when they are around each other. Add that to their friends' constant nagging about them making a good couple. What should they do?
This may not be what they want to hear, but they should forget about it! No romantic relationship should be developed unless the couple can get married if all goes well. If they are not ready to get married, they are not ready to date. Dating without marriage on the radar is an unnecessarily risky business.
Jenny and David should continue to cultivate good, biblical friendships with each other - and with others - as spiritual siblings. But I would encourage them to wait until they are ready to get married before they consider dating.
So if you are not ready to be married, how can you get ready? Whether you are too young or too immature to enter into a relationship that could lead to marriage, a path to a God-honoring marriage can be paved if you will look to God's Word.
I believe that the following ten principles can help any person in any context honor God's relational values and in turn become godly people ready for godly relationships. In fact, these guidelines can be followed regardless of the model you choose.
The Ten Principles for a God-Centered Relationship
1. The Character Principle
It is the pattern and practice of God to judge a man's or woman's true character by looking inside at what is in the heart. Externals reveal only so much about the true person. If we are to be faithful imitators of our heavenly Father, evaluation of a potential spouse should be based first on character.
The Character Principle is about being the right person more than finding the right person. If your character is being conformed more and more into the image of Christ, you will desire the right kind of person. There are numerous texts informing the believer how to live a life that pleases God. The second chapter of Titus is an exemplary passage that gives a blueprint for training the character of succeeding generations. Because it speaks to both men and women, it provides a succinct summary of what God desires for our lives.
Have something to say about this article? Leave your comment via Facebook below!
advertise with us
Example: "Gen 1:1" "John 3" "Moses" "trust"
Advanced Search
Listen to Your Favorite Pastors