Defining Your Dating Style: The Guided Path – Part II
Rick Holland, Author
Wednesday, September 28, 2005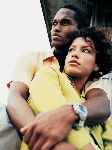 Paul was instructing Titus how to put things in order in the church (see Titus 1:5). An important part of getting the church in order was to ensure that older believers were discipling younger believers to be men and women of godly character. Much of the apostle's instruction to Titus as both a pastor and a young man was directly related to relationships. As he addressed the older men and women, a clear example of godly character came into view. And as he spoke about the next generation, a clear exhortation of godly character emerged:
Older men are to be sober-minded, dignified, self-controlled, sound in faith, in love, and in steadfastness. Older women likewise are to be reverent in behavior, not slanderers or slaves to much wine. They are to teach what is good, and so train the young women to love their husbands and children, to be self-controlled, pure, working at home, kind, and submissive to their own husbands, that the word of God may not be reviled. Likewise, urge the younger men to be self-controlled. Show yourself in all respects to be a model of good works, and in your teaching show integrity, dignity, and sound speech that cannot be condemned, so that an opponent may be put to shame, having nothing evil to say about us. (Titus 2:2-8)
Notice that godly character is a product of spiritual discipleship. One of the best ways to prepare for a marital relationship is to maintain a mentoring relationship with an older, wiser, and godlier member of the same sex.
In addition to what Paul told Titus, godly character consists of qualities such as humility (see Philippians 2:3-11), holiness (see 1 Peter 1:14-17), godly love (see 1 Corinthians 13:4-8), selflessness (see James 3:14), the fruit of the Spirit (see Galatians 5:22-25), and, of course, Christlikeness (see Ephesians 4:13).
The Character Principle has another dimension: recognition. Not only should godly character be pursued personally, but it should also be recognized in anyone a person might date or court. King Lemuel crystallized the Character Principle with his contrasting words:
Charm is deceitful, and beauty is vain, but a woman who fears the LORD is to be praised. (Proverbs 31:30)
2. The Conformation Principle
One of the many potholes of recreational dating is that it often finds affirmation and confirmation from the wrong sources. I know that many who date submit themselves humbly and willingly to the authorities in their lives, but sadly, many others do not. The Confirmation Principal is the commitment to submit one's life and relationships to the spiritual scrutiny of God's authority, care, and protection represented here on earth. Who are these authorities? Let me outline three.
Parental Confirmation. God has given parents authority over their children (see Exodus 20:12; Leviticus 19:3; Deuteronomy 21:18-21; 27:16; Matthew 15:4; Romans 1:28-32; Ephesians 6:1-2; 2 Timothy 3:1-5). Therefore, to ignore this authority is to ignore God. But what does this mean in premarital relationships?
First, parents should be involved from the beginning. Many parents desire to be involved with all aspects of a relationship in the initial stages, including who is to be pursued and considered for marriage. Unfortunately, some do not. Regardless, it should be the heart of a son or daughter to submit his or her decisions about relationships to his or her parents. This involves getting their thoughts, listening to their concerns, proceeding at their pace, and applying the brakes if they say, "Wait" or "stop." But what if you and your parents disagree? Ravi Zacharias shares this wisdom: 'The chances are that if you marry someone in violation of your parents' will, you are playing a high-stakes game as you enter your new future. Any time you violate an authority that has been put in place by God, you need to be twice as sure you are doing the right thing."45 How can you know if you are doing the right thing? There is another level of authority.
Have something to say about this article? Leave your comment via Facebook below!
advertise with us
Example: "Gen 1:1" "John 3" "Moses" "trust"
Advanced Search
Listen to Your Favorite Pastors