Defining Your Dating Style: The Guided Path – Part IV
Rick Holland, Author
Wednesday, December 21, 2005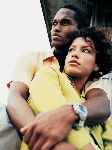 8. Commitment Principle
One of the most generic phrases in the English language is "I love you." Love is said to be a feeling unlike anything you have ever felt before. Others say love is like a hole in the ground - you fall into it.
If you want to experience biblical love, you need to have the faithfulness and responsibility to love as God loves. The New Testament term for this kind of love is agape. It simply means an unconditional commitment to an imperfect person. Ephesians 5:22-33 describes this as the kind of love a married couple should have. It is not based on emotion, selfish gain, or even attraction. (Note: I am not saying that you should not be attracted to the person you marry!)
But what is the nature of such love? God didn't leave us to our own thinking and hormones to decide. Agape love is the kind of love God has (see John 3:16), and we have been given a very detailed descriptoin of it:
Love is patient and kind; love does not envy or boast; it is not arrogrant or rude. It does not insist on its own way; it is not irritable or resentful; it does not rejoice at wrongdoing, but rejoices with the truth. Love bears all things, believes all things, hopes all things, endures all things. Love never ends. (1 Corinthians 13:4-8)
Love is a commitment. It is a decision to be made and a promise to be kept. It is the way Christians care for one another. And it is the way a husband and wife reflect the glory of Jesus Christ. Real, genuine, sincere, biblical love endures all things and stays committed to an imperfect person. I am not suggesting that you can never break off a dating relationship - even if you have told someone you love him or her. Rather, in a romantic context, those words should be reserved for communicating a permanent relational commitment.
9. The Communication Principle
At the core of every problem in marriage and premarital relationships is prideful selfishness. And nothing solves this problem more than communication. If you want to be successful relationally, learning to communicate biblically is nonnegotiable.
Ephesians 4:25-29 teaches that appropriate, godly communication has at least four elements. Paul encouraged the Ephesian believers to communicate verbally (see verse 25), honestly (see verse 25), regularly (see verse 26), and purposefully (see verse 29). Any relationship, romantic or otherwise, would profit from these principles.
One of the most important skills to evaluate and work on in a dating relationship is communication. Jesus said that a person's heart is revealed by what he or she says (see Luke 6:45). God-honoring communication is the bridge that will take you to relational enjoyment and get you over the inevitable conflicts of relationships.
Men and women communicate differently. Learning to clearly say what you mean and to hear what is really being said is more of an art than a science. But there is a key: humility. If you really want to be a better communicator and listener, put the focus of your communication on the other person. Use wisdom in talking about yourself. Beware of the person who likes to talk only about himself or herself. And especially pay attention to how much that person speaks based on a foundation of Christ's gospel.
It's simple. We talk about what is important to us. So let Jesus flavor what you say and how you say it. And listen carefully for the sounds of the Savior when you listen to that person you are interested in.
10. The Chastity Principle
One question I am regularly asked by people in romantic relationships is, "How far can we go physically?" The problem is that this question is fundamentally wrong. Another way of phrasing it is, "How close can we get to sin without getting into trouble?" The Chastity Principle involves asking another question altogether: "How holy can we be?"
Have something to say about this article? Leave your comment via Facebook below!
advertise with us
Example: "Gen 1:1" "John 3" "Moses" "trust"
Advanced Search
Listen to Your Favorite Pastors