Does God Really Give us the Desires of Our Hearts?
Kathleen Hardaway, Contributing Writer
Wednesday, June 23, 2004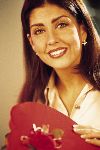 Does God truly give you the desires of your heart? As a single, have you ever asked the question, "If God gives you the desires of your heart, why am I still single?" Of all the questions I've been asked, this is probably number one. To understand this scripture fully, it's important to put it in context.
"Trust in the LORD and do good; dwell in the land and enjoy safe pasture. Delight yourself in the LORD and he will give you the desires of your heart. Commit your way to the LORD; trust in him and he will do this: He will make your righteousness shine like the dawn, the justice of your cause like the noonday sun. Be still before the LORD and wait patiently for him..." (Psalm 37:5-7a NIV).
Today if you're struggling in your singleness, don't lose heart. These verses are key in helping you with your frustration being single. Is your delight, your joy, in the Lord? This is vital for anyone to have true joy.
The first 20 years of my life, I put much of my joy in my boyfriends. My mood swings went from high to low depending on how a relationship was going. I later realized my joy was in a man, not in my relationship with the Lord.
Our delight must be first in the Lord. It must be priority in your life. Second, are you "trusting in Him and doing good?" Countless singles are doing their own thing, not trusting in Him, much less doing good. Many are dating unbelievers and choosing an impure lifestyle.
God says, "Blessed are the pure in heart, for they shall see God" (Matthew 5:8). If you want a blessed life then it must be a pure life.
Later in these verses, David writes, "Commit your way to the Lord and trust in Him." Continue to tell the Lord you want His way, not your way. Never ever try to make a relationship happen. Far too many singles are doing this only to end up heartbroken.
We are also commanded to be still and to wait on Him. Waiting is a difficult thing to do. At times it gets long and it may seem too hard. Often singles cannot endure the waiting and they rush into a wrong marriage. Wait. Keep waiting. Don't rush.
My friend, if you are truly delighting in Him, trusting in Him, committing your way to Him, and waiting on Him, yes, He will give you the desires of your heart. Scripture tells us He will. But God's timing may not be your timing.
Have something to say about this article? Leave your comment via Facebook below!
advertise with us
Example: "Gen 1:1" "John 3" "Moses" "trust"
Advanced Search
Listen to Your Favorite Pastors