Embrace Your Season
Michelle McKinney Hammond, Author
Monday, June 11, 2007

Check Yourself
What do people say about your character?
What would you like them to say about you?
What habits or attitudes do you need to change to get a more desirable review from others?
If you met yourself at a function, would you want to be your friend? Why or why not?
The goal we've all been wired in our spirits to achieve is to live a value-added life. We were created to be priceless, to grow and make lasting contributions to the world and to the people around us. We should be a valuable commodity to those who experience life within our personal, social, and professional circles. The things we say and do add or subtract from our lives as well as the lives of others on a daily basis. I believe this is why the Bible tells us to begin with our thought life—to purpose to think on things that are true, honorable, right, pure, lovely, admirable, excellent, and praiseworthy (see Philippians 4:8). If this is what we are predisposed to mentally, our thoughts will manifest for all to see. What proceeds from our mouths as well as our deeds will line up with God's design for us.
How the world longs to see individuals overflowing with integrity! This is what gives people hope. They long to believe that if they live a righteous life the results will be victorious. With so much bad news abounding, many wonder if there is anyone left who will not compromise his or her standards to get ahead in life. People want to see the unlikely suspect, the good guy who stands for what is right, overcome the obstacles of life with grace, humility, and aplomb. Why do we value this so much? Perhaps because this is a confirmation of the greatness of an awesome God and the virtues He extols. When we walk in excellence and integrity, others view a reflection of God. We are an extension of His power and virtue in the earthly realm. We all long to see God, and in a physical sense the way we see Him is in the eyes of people around us. This is valuable to the human spirit because goodness gives us more hope and more faith that God exists and He is truly good.
Check Yourself
What do you think of yourself?
Write a description of how you think others describe you.
How can you reconcile your description of yourself with how others describe you?
Why are you valuable in the life of your family? To your friends? In your place of employment? At your church?
Would you like to increase your value to others? What will you do to accomplish this?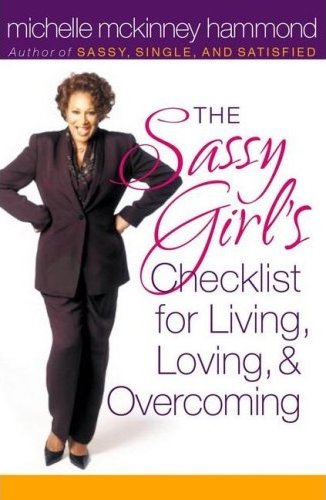 Taken from The Sassy Girl's Checklist for Living, Loving & Overcoming by Michelle McKinney Hammond; Copyright 2007 by Michelle McKinney Hammond; Published by Harvest House Publishers, Eugene, OR; Used by permission.
Michelle McKinney Hammond, a writer, singer, and speaker who focuses on improving love-driven relationships, is the founder and president of HeartWing Ministries as well as the co-host of the Emmy-nominated show Aspiring Women. Michelle is the author of The DIVA Principle™, 101 Ways to Get and Keep His Attention and Sassy, Single, & Satisfied.
Have something to say about this article? Leave your comment via Facebook below!
advertise with us
Example: "Gen 1:1" "John 3" "Moses" "trust"
Advanced Search
Listen to Your Favorite Pastors