Flying Through Fourteen Weddings
Tim Laitinen, Crosswalk.com Contributing Writer
Thursday, August 04, 2011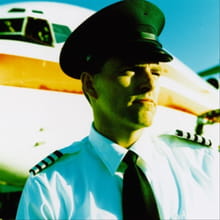 EDITOR'S NOTE: The following is the latest installment of Solo Zone, a monthly series focusing on believers who have taken advantage of serious opportunities God has laid in their faith walks—and whose singleness actually works to their benefit, as well as God's glory.
Calm, cool, and collected.
As a pilot, you've gotta be all three. As an airplane pilot for a major children's hospital, you've gotta be all that, and more.
So maybe personality does help Kirk Sammons* maintain perspective as he flies sick children to healthcare specialists around the Southwest. And navigate singlehood in his thirties. But it's the power of God that Sammons credits with all of it.
After all, helping pediatric patients and their parents access the critical healthcare they need is one thing. Participating in fourteen weddings while you're still single, and maturing in your faith at the same time, is something only God can do.
Yup–fourteen weddings. And he's never been the groom.
"There was probably a time when I didn't think anyone ended up single," Sammons grins broadly, "but I have the pleasure of seeing the fruit of it personally."
Fourteen weddings can give one plenty of opportunities to contemplate marriage and singlehood, and Sammons appears to have used his time wisely. He believes the Lord has helped him grow as a leader as well as a relationship partner.
"I have realized that I must learn both how to be a better decision maker, and how to have fun," he admits, describing a balance the husband brings to a biblical marriage. "One can become 'too' serious when trying to 'grow up enough' to get married, or to be a husband."
It's all part of developing a realistic appreciation of marriage, not to mention singlehood, and God's designs for both.
"I view marriage as a gift of God's design for a man and a woman [Genesis 2:18-25] who are each created uniquely, in order to honor God better together [Ecclesiastes 4:4-12]. I think the unity of marriage is a picture of our relationship with Christ," Sammons explains, "as well as the relationship that the Trinity shares, at least in terms of its function.
"I think marriage is intended to be pleasant, pleasurable, and productive," continues Sammons, with a bit of alliteration. "Not just in procreation, but in accomplishing God's will here on Earth."
As a hiker and all-around outdoorsy kind of guy, as well as a volunteer leader in his church's youth group, Sammons values the process of preparation, and appreciates the rewards of prudence and effort. "My desire to get married has moved from one of nearly pure selfishness, to wanting to work hard. Love is hard work, but even working through the most difficult things is so rewarding."
And speaking of rewarding, just as marriage can be, Sammons readily affirms that singlehood is also a gift [Matthew 19:11-12] to be used to honor God [Colossians 1:10]. However, whereas biblical teachings on marriage may be well known, singlehood and dating can seem trickier, particularly in our North American culture.
Have something to say about this article? Leave your comment via Facebook below!
advertise with us
Example: "Gen 1:1" "John 3" "Moses" "trust"
Advanced Search
Listen to Your Favorite Pastors