For Love of God—or Money?
Tim Laitinen, Crosswalk.com Contributing Writer
Thursday, October 06, 2011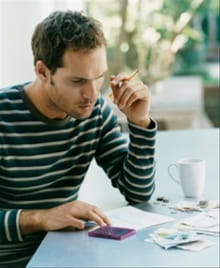 EDITOR'S NOTE: The following is the latest installment of Solo Zone, a monthly series focusing on believers who have taken advantage of serious opportunities God has laid in their faith walks—and whose singleness actually works to their benefit, as well as God's glory.
Do you tithe?
Only 24 percent of evangelicals tithe, according to a Barna study.That's not very many of us, is it?
And singles? We're even worse at tithing.
For those of us who do tithe, we generally figure ten percent is being fair. If not generous. But what would you say to a single guy who views that figure as more of a starting point than a limit?
He hasn't made a vow of marriage—yet—but he made a financial vow to God years ago.
Meet Charles, whose real name we'll protect for his privacy. Ever since he first set up his own budget in college, Charles has been giving 25 percent of his total income to the Lord's work, as both tithes and offerings. Whatever term you'd like to call it.
Because it doesn't matter what you call it; Charles believes it's all God's to begin with. Every penny that God provides, through whatever our portfolio of resources looks like.
Whose Money Is It, Anyway?

"I view giving differently from most," he bluntly admits. "I don't consider the assets and funds I have mine. I believe they're God's and I'm simply a steward of what he has entrusted to me, and I am to use them for his purposes."

Now in his early 40s, perhaps Charles would find our culture amenable to the idea that more of his income belongs to him, either because singles often don't earn what married people do, or because they end up in higher tax brackets, or because they don't have an extra income from a spouse to help finance their household.
But Charles doesn't see it that way. Nor does he tithe more just because he's single.
Granted, he doesn't have the extra expenses of children and a non-income-earning spouse. Nevertheless, while he was in college, Charles committed out of love to the Lord that he would tithe at or above 25 percent of his income regardless of his life circumstances. And by God's grace, he's stuck with it.
"I don't consider any amount of my giving to be a benefit of singlehood," Charles clarifies, shrugging off any easy rationalization of his tithing commitment. "Having a family would not change my priorities. My family would have to live on a budget that would fit the leftovers after the first fruits are given to the Lord. In addition, the 25 percent vow . . . would include any income my wife contributed."
So he's promised God that whatever his household earns, at least 25 percent of it is tithe. Currently, he's tithing 30 percent. The additional 5 percent is icing on the cake, a demonstration both of faith and gratitude for all with which God has blessed him.
Doesn't that make your brain woozy? How countercultural is such a concept—even for people of faith? Constructing a family budget after the tithe, instead of with it? And reducing one's standard of living to accommodate a robust tithe? Who does that?
Have something to say about this article? Leave your comment via Facebook below!
advertise with us
Example: "Gen 1:1" "John 3" "Moses" "trust"
Advanced Search
Listen to Your Favorite Pastors