Frankincense, Gold, Myrrh ... and Singleness
Carolyn McCulley, Author & Contributing Writer
Monday, December 13, 2004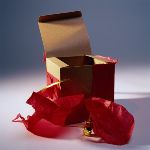 Earlier this month, I encountered a single friend carrying shopping bags of Christmas gifts while tears coursed down her cheeks.

She had been discussing Christmas plans with her family. All her siblings were married with children and the family had decided to just give gifts to the children this year, skipping the gift swap among the adults. Christmas is really just for the kids anyway, they said. Of course the spouses would still give each other gifts. So suddenly it dawned on my friend that she would not have any gifts to open on Christmas — and the lonely awkwardness of that scene overwhelmed her.
"It's not that I'm being cheap," she said between sobs. "I don't mind giving gifts and I really don't want a lot of stuff. But this decision just makes me feel, well, unimportant, I guess. Am I being selfish?"
My friend is ten years younger than I am, and is just now encountering the cumulative effect of being single longer than her siblings and peers. I knew exactly what she was trying to articulate.
"I understand your reaction," I said gently. "The same thing happens to me. And it's not that I want any more stuff. It's just that being single often pushes you to the fringes of Christmas, and it's a poignant realization."
Three days later, I was having the same discussion over lunch with another group of single friends. It seems this year is a popular one for the "just kids" idea. As we talked, someone wondered aloud if we should point out this inequity to our families. While I think it could be helpful in some cases, I wondered what the long-term solutions could truly be. The circumstances are what they are for each of us — and there's wisdom in curtailing the money-shuffling at Christmas. The things we really want as adults are often what you can't reasonably afford or even purchase, so it seems silly to circulate gift-certificates among ourselves just for the sake of commercial traditions.
Unwrapping the Gift of Singleness
Why then does it feel so bitter to be sitting solo with an empty stocking at Christmas? I think because it often highlights for us the perceived "emptiness" of this gift of singleness that we have. That's what the Bible calls this season — a gift (1 Cor. 7:7). Inspired by the Holy Spirit, the apostle Paul, a single man himself, wrote this and called it a good gift — which may be surprising to some. In fact, Paul calls both marriage and singleness a gift from God. The Greek word Paul used here is charisma. There are several Greek words that could be translated as "gift" in English. One word denotes a gift presented as an expression of honor. A second euphemistically infers that a gift is more a matter of debt or obligation. A third denotes a free gift of grace, used in the New Testament to refer to a spiritual or supernatural gift. This is the word Paul uses in this passage — charisma. 
Despite all the modern connotations associated with the word charisma, it means much more than the nuances found in either the Pentecostal/charismatic theology of spiritual gifts or the functional "identifying your spiritual gifts" lists common in evangelical circles. As a gift of grace, it stresses the fact that it is a gift of God the Creator freely bestowed upon sinners — His endowment upon believers by the operation of the Holy Spirit in the churches. Theologian Gordon Fee says that Paul's use of charisma throughout this letter to the Corinthians stresses the root word of "grace," not the gifting itself. In fact, Fee writes: "There seems to be no real justification for the translation 'spiritual gift' for this word. Rather, they are 'gracious endowments' (where the emphasis lies on the grace involved in their being so gifted), which at times, as in this letter, is seen also as the gracious activity of the Spirit in their midst."
Have something to say about this article? Leave your comment via Facebook below!
advertise with us
Example: "Gen 1:1" "John 3" "Moses" "trust"
Advanced Search
Listen to Your Favorite Pastors