Girls Loving Girls - Part 1
Connally Gilliam, Author
Thursday, November 16, 2006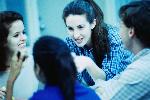 My sister-in-law, Chantal, and I decided it was time to leave the family behind and go for a walk down the beach, just to catch up.

Sporting our sun glasses and black "illusion" bathing suits, we began our walk. A few minutes into the walk in a burst of enthusiasm, Chantal reached over, grabbed my hand, tucked my arm under hers, and leaned her head on my arm (I'm about 8 inches taller). For Chantal, ethnically Lebanese, hugs and hand-holding are as much a part of her blood as flat bread and strong coffee, but as she did it, I instantly became aware of how weird we might appear:  sun-glassed women walking down the beach, holding hands. In a flash, before I could even stop myself, I thought, "I hope people don't think we're gay!"
Bothered that that thought even came into my mind, I just kept walking with her, choosing to enjoy the warmth and affection that this sweet sister-in-love (as we refer to my brothers' wives) had to offer. I couldn't shake being bothered, though. Reflecting on it later that day, I realized that I was both saddened and angered that the thought had even entered my mind. I was saddened because I grew up in a very touchy-feely family – a family for whom back rubs, kisses, hair tousling, and long hugs were just givens. None of it was self-consciously intentional, none of it was remotely sexualized, and all of it was simply part of the rhythm of our interaction. But somehow, that previously assumed wall of protection surrounding the expression of innocent affection and healthy friendships between women had been breeched in my imagination. I felt angry.
I have talked about this with a number of my girlfriends, and across the board, there seems to be an increasing self-consciousness about all kinds of affection between women. …
Recently, I got into a conversation with a woman who is a wife, mother, grandmother, and college professor. As we chatted, she said she had seen in college age women a greatly heightened sensitivity to the question of sexual identity, one which she said would have never crossed her mind in her college days, forty plus years ago. She talked about how her best friend from college was a "dear," a friend to whom she would pour out her heart, and to whom she would gush about her love for her. They had sometimes slept in the same bed and pledged life-long friendship. None of it had ever taken on a sexual dimension, even in their imaginations. Now, she said, she almost feels embarrassed to talk about it in front of younger women because to their ears it sounds so iffy. …
I don't really know, then, what has happened to the wall protecting that kind of unself-conscious physical and emotional affection. Has it been knocked down by a hyper-sexualized culture that attributes an erotic motive to every motion? Was this wall also hiding a darker side to women's affection, and therefore has needed to come down? Could it be a little bit of both? …
I know that once the walls protecting and defining innocent and healthy affection have fallen in a culture, they are hard to rebuild. This is especially true when many do not want the walls that used to prohibit same-sex, sexual expression rebuilt. I think of the popular movie from a few years ago, "The Hours." Incredibly well-acted, it sent the quiet sideline message that sexual ambiguity between women can be a given — between sisters or friends, in this century or another – and ultimately, lesbianism is just another option – at least as long as you choose it from your heart. I disagree with this message, and I know to some, that makes me a killjoy who wants to dictate what's right and wrong in sexual expression. Backed into a corner, eventually I fall back on the teachings of the Old and New Testament, but that only carries weight with certain people.
Have something to say about this article? Leave your comment via Facebook below!
advertise with us
Example: "Gen 1:1" "John 3" "Moses" "trust"
Advanced Search
Listen to Your Favorite Pastors