Gracious Gifting
Susan Ellingburg, Crosswalk.com Contributing Writer
Tuesday, October 16, 2012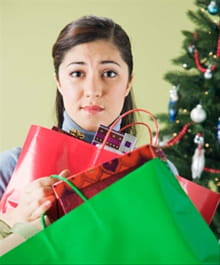 It feels like summer is barely over, but gift-giving season will be here before you know it. While it can be quite the adventure to do all one's shopping as stores are closing on Christmas Eve, that does add an extra level of stress to what is—let's face it—already a stressful season. As many have discovered, the selection of suitable gift items at most convenience stores is limited. So before the holiday appears out of the blue and you get caught up in last-minute panic, let's just take a few moments to ponder the ways and means of gift giving.
The Perfect Gift
Choosing a gift can be difficult. After all, if they don't like our gift does that mean they're rejecting us as well? We want to find just the right thing to convey the appropriate message. This is especially true, I find, when shopping for those hard-to-buy-for people we want to impress. In a perfect world the recipient will be overcome by the wonder of your gift, angels will sing, crowds will gasp in amazement, and you will be a hero. But guess what? We don't live in a perfect world.
In these situations the "perfect" gift is often a myth. You're probably not going to find perfect; even if you eventually do, the amount of stress you've put yourself through to find it will taint the giving of it. So by the power vested in me (which is exactly none) I hereby declare you free from the burden of perfection.
Now I'm not saying you should settle for any old thing. Go for a thoughtful gift, something that shows you considered the needs and wants of the other person. You may actually find the perfect something along the way and if you do, rejoice! But don't turn gift hunting into the quest for the Holy Grail.
One more thing: If you find the perfect gift and it's above your means, it's not perfect. It's also not worth the stress it will place both on you and on the gift. If you're worried about the consequences of overspending, you won't enjoy the giving and often, neither will the recipient. Why burden your gift with all those bad vibes?
The Gift Shelf
Last year when the holidays rolled around I started mentally running through my list of gift recipients. What to get A, B, and C? How much room was there in the budget for gifts this year? Pondering these thoughts, a vague memory tickled my subconscious. My subconscious isn't very ticklish, so it took a while to get through, but eventually it persuaded me to wander over to my gift closet. I opened the door and voila! I already had gifts for A, B, and C! I had purchased them the previous spring and stashed them on my gift shelf until needed, then promptly forgot I did so. (One of my organized friends writes reminders on her calendar to check the shelf two weeks out from gift-giving occasions; I might have to try that and give my subconscious a rest.)
The beauty of a designated gift storage area is that it helps you avoid last-minute gift panic. All year long, when I run across something I know one of my gift-ees would love, I buy it, bring it home, and put it on the shelf. This works so much better than my former method, which was to think, "That will be great for A or B, I'll remember that it's here and come back for it." Yeah, that never works. Even if I do happen to remember where the item was, it's never there when I go back for it. Carpe gift, my friends, and set it aside for the inevitable gift-giving opportunity. This also allows one to take advantage of sale prices throughout the year.
Giving Graciously
So you've got your gift in hand; the next step is the actual handoff. There are good and bad ways to do this. For example: handing it over with a comment like "I saw this and thought of you" is generally good. Delivering your gift while moaning about the amount of trouble, time, and money you spent on it? Bad. Very bad. The latter has happened to me more than once and every time I felt a) guilty b) irritated and c) hurt that I clearly wasn't considered worth the investment the giver so clearly resented. This is another reason not to blow the budget on a gift; the person receiving your gift may pick up messages you didn't know you were sending.
Have something to say about this article? Leave your comment via Facebook below!
advertise with us
Example: "Gen 1:1" "John 3" "Moses" "trust"
Advanced Search
Listen to Your Favorite Pastors