Hard Questions, Godward Answers
Carolyn McCulley, Author & Contributing Writer
Wednesday, November 17, 2004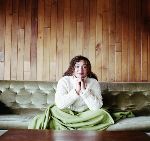 Are you tracking with me here? This means if the Lord can direct the heart of an absolute monarch, He can certainly turn the affections of our future husbands to us.
(Silence.)

(Crickets: brrrpp, brrrppp.)

"Uh … well, does that mean God is holding out on us?" you might ask.

It can feel that way, can't it?

But only if you forget whose heart He has already changed – yours.
If you are a believer in the Lord Jesus Christ, if your life has been radically changed by a personal relationship with Him, then you know this to be true. He softened your once hardened, rebellious heart and gave you affection for His Word and His people. You may remember what you were like before your Christian conversion. I certainly remember what I was like! I mocked Christians. They made no sense to me.
I didn't know then I needed a Savior, but that wasn't a mystery to God. I didn't know then that my heart needed to be changed, but that wasn't a mystery to God – nor was it impossible for Him to do. What we can't control, what we don't even understand, is clear to Him.  As hard as it can be at times to be single, doesn't that put it all in perspective?
Dear friends, the whole Bible testifies of God's faithfulness to us, even in the face of our own faithlessness to Him. God has not forgotten anything at all. The gentle words of my pastor, C.J. Mahaney, are a good reminder: "Your greatest need is not a spouse. Your greatest need is to be delivered from the wrath of God – and that has already been accomplished for you through the death and resurrection of Christ. So why doubt that God will provide a much, much lesser need? Trust His sovereignty, trust His wisdom, trust His love."
So the infamous question about why we're not married is the wrong question to ask. It implies lack. But our heavenly Father has said He withholds no good thing from His children (Psalm 84:11, Matthew 7:11). The better question to ask ourselves is: What is God doing with and through my singleness?
As we face the holidays, let's not let the joy of our salvation be dampened by thoughtless questions. Instead of cringing when the extended family asks about our dating life, let's be prepared to give an answer about what God is doing in our life. Instead of worrying about not having someone to bring home for Thanksgiving, let's think about how we could minister to those around us at that table. It takes some advance planning to prepare our emotions and think about gracious, Godward answers, but it's well worth it to glorify our Lord and Savior!
      
P.S. There really is no one-size-fits-all answer to every question about our singleness, but there is definitely one reason why we're single now. We'll look at that next, Lord willing.

This column starts a series adapted from "Did I Kiss Marriage Goodbye? Trusting God with a Hope Deferred" (Crossway, 2004) by Carolyn McCulley © 2004. (Used by permission of Crossway Books, a division of Good News Publishers, Wheaton, IL 60187, www.gnpcb.org.) The book is addressed to single women, but male readers are still welcome to learn more about their sisters in Christ.



Have something to say about this article? Leave your comment via Facebook below!
advertise with us
Example: "Gen 1:1" "John 3" "Moses" "trust"
Advanced Search
Listen to Your Favorite Pastors