He Said-She Said: A Lack of Attraction and Pursuit
Cliff Young & Laura MacCorkle, Crosswalk.com Contributing Writer & Senior Editor
Thursday, January 28, 2010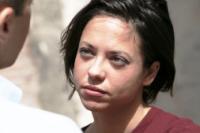 EDITOR'S NOTE: Each He Said-She Said column features a question from a Crosswalk.com reader with responses from a male and female point of view. If you've got a question about anything related to singleness, please
click here
to submit (selected questions will be posted anonymously).


QUESTION:
There is a man who has been "pursuing" me that is a friend of mine from church. He's 39, very overweight but such a good, godly man that has very good character and a love for God (as do I). Although he is working on the weight issue and has lost some of his weight, I find myself less attracted to him as time continues. Part of this could be from the fact that on account of his weight issue he hasn't really showed much interest in pursuing me other than the occasional instant message online and a date here and there. But he doesn't seem overly excited about me in general. I guess my question is should I take this seriously? I'm 30 and am overweight myself, but near goal in my weight-loss efforts, extremely active and ready for
marriage
in my heart and in my walk. I just don't really know how to move forward. On the positive side, we do laugh together, we do have a good time when we're together; we can pray together and worship together. Like I said, we are friends! I don't think he's unattractive; I think it's because of his weight that makes me feel that he's not very attractive. Also, because he isn't pursuing as I am accustomed by other men in the past, I find myself not wanting to go out with him at all. Any suggestions would be very helpful in my time of need!
HE SAID:
Let me try to summarize what you have shared with us. An overweight godly friend of good character has been pursuing you; however, as you have lost weight, you sense he is contacting and pursuing you less. Although you enjoy spending time with him, you are finding yourself less attracted as a result of his weight and lack of consistent interest in you. Am I close?
I know many fantastic godly single women, who want a relationship, but are not being pursued by Christian men. Some guys may be concentrating on work or don't desire a relationship; however, many are intimidated, fear rejection or lack self-esteem (your friend may be falling into this category which I will explain later).
The Bible calls us, men, to be the leaders in the church and the leaders in our families. To do this we have to have a strong foundation of faith in Christ and live it out boldly, and one way is by pursuing a woman in a godly fashion.
For God did not give us a spirit of timidity, but a spirit of power, of love and of self-discipline (2 Timothy 1:7).
You mentioned your friend had been pursuing you, but his pursuit has waned. I suspect there may be a number of factors other than just a lack of desire or interest on his part.
Your weight loss shows determination, perseverance and sacrifice by setting a goal, pursuing it and nearing completion. I'm sure you have struggled mentally, physically and emotionally in order to achieve what you have thus far. As a result, you almost certainly carry your head a little higher, walk a little taller and feel more comfortable with yourself. You probably look at your life and the world around you a little differently, too.
One of those "areas" that may look different is how you view your friend. You mentioned, "I think it's because of his weight that makes me feel that he's not very attractive." You have changed. Your perspective has changed. Maybe you see him differently now that you have lost weight. Was this something you didn't notice before? What are those things that initially attracted you to him?
Have something to say about this article? Leave your comment via Facebook below!
advertise with us
Example: "Gen 1:1" "John 3" "Moses" "trust"
Advanced Search
Listen to Your Favorite Pastors