He Said-She Said: Involvement with Married People
Cliff Young & Laura MacCorkle, Crosswalk.com Contributing Writer & Senior Editor
Thursday, March 31, 2011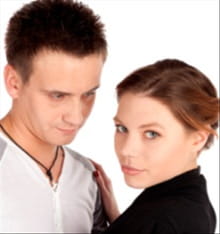 EDITOR'S NOTE: Each He Said-She Said column features a question from a Crosswalk.com reader with responses from a male and female point of view. If you've got a question about anything related to singleness or living the single life, please submit it to He Said-She Said (selected questions will be posted anonymously).
This month we decided to group together four different questions that all deal with attraction to or involvement with married (or engaged) people. Please see the questions and our responses below.
QUESTIONS:
I met this guy in my late teens. Then we were just friends, but very close. We shared a lot with each other but never crossed the "just friends" line. Now, eight years later, he's back in my life. We've just realized that we have very strong feelings for each other. But there are two main problems with this. First he's Catholic, and I'm Pentecostal. I do not believe in many of the Catholic teachings, and I have told him so. But he says he is ready to become Pentecostal for us to be together, as in marriage. Secondly, he's engaged! We reunited a couple of months after his engagement, and now he wants to be with me, as in breaking up with his fiancée! I have two questions: 1. How did I get here? 2. What am I doing? I've been in a real relationship with Jesus for over ten years. I should know what to do but I don't!!

I have a question and desire advice about something that is heavy on my heart. I would like to share (before I talk about my problem) that I love the Lord, and I am very well aware that I am struggling with sin. My heart is just to seek practical ways to get out of this bind that I am in. I've been blessed by the church I attend. However, when I first started attending this church, there was a man who caught my attention. I don't think there was much to it at the time. Because I am naturally introverted, I just thought it was shyness because he is male and I did not know him very well. However, a few months ago, I realized that I am actually attracted to this man. The problem with my attraction to him is that he is married. I am in no way thinking that it's okay to be attracted to a married man, nor am I trying to attract his attention. When I realized that I was attracted to him, I was horrified and prayed and prayed. I believe this man is godly with a wonderful wife and great family, and the reason why I try to avoid him and avoid any contact with him is to avoid dishonoring him or his marriage in any way. My problem though is that because our church is so small, it's hard to avoid him. And because he truly is kind, he tries to initiate contact with everyone, including me. I believe that he may have noticed that I'm not particularly warm (which is my way of keeping myself in check), and I think he may have realized that I try to avoid eye contact, etc. I'm not really sure what to do. I've considered leaving the church, but there are different reasons why this would be difficult. I have no intention of pursuing him or flirting with him or anything like that. I struggle though with getting over the fact that I am attracted to him. I thought at one point that I was the only one who struggled with this, until I talked to another believer who mentioned that she too had once been attracted to a married man. What do singles do when they are attracted to someone who they should not be attracted to?

I am in love with a married man. He just recently married, and I still feel there is something between us. Before he selected his wife, he was battling with whether he should be with me. There is almost a ten-year age gap between us (he being the older person) that he says held him back from choosing me. I do not pursue him, of course, because he is married and I know it's wrong. I can't help but think he made the wrong decision, and I think he feels the same from our conversations. I've prayed about this, and I hear nothing from God. What should I do?

Someone I worked for 27 years ago, who was married at the time and with whom I had only a working relationship, popped up in my life last year. He and his wife are separated and have decided to get divorced, but the division of assets is an issue. My question: can I as a Christian date someone who is separated, the divorce proceedings in progress, but still not through?

HE SAID: Let me first begin by saying as a brother in Christ and a fellow single, I struggle with my desire to be married and have a family, along with moments of self-doubt from being single. These are natural and common emotions.
Have something to say about this article? Leave your comment via Facebook below!
advertise with us
Example: "Gen 1:1" "John 3" "Moses" "trust"
Advanced Search
Listen to Your Favorite Pastors