He Said-She Said: Involvement with Married People
Cliff Young & Laura MacCorkle, Crosswalk.com Contributing Writer & Senior Editor
Thursday, March 31, 2011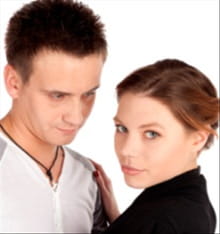 The Lord God said, "It is not good for the man to be alone. I will make a companion who will help him" (Genesis 2:18).

If God knows this to be true, why are there so many singles in the world without a companion?
I don't know.
However, what I do know is to look into God's Word and not into the arms of someone already spoken for.
Do not be yoked together with unbelievers (2 Corinthians 6:14).
No temptation has overtaken you except what is common to mankind. And God is faithful; he will not let you be tempted beyond what you can bear. But when you are tempted, he will also provide a way out so that you can endure it (1 Corinthians 10:13).
Since they (the couple) are no longer two but one, let no one separate them, for God has joined them together (Matthew 19:6).
I tell you this, a man who divorces his wife and marries another commits adultery—unless his wife has been unfaithful (Matthew 19:9).
Most of us are familiar with these passages, heard numerous teachings on each and should be well versed in them and their meaning; however, some of us still struggle with accepting them as God's direct command for our lives.
If you read these verses and immediately think, "Yes, but …" and try to insert a reason why it does not apply in your situation, you probably haven't fully accepted them as the truth and better go back and look at them again.
It's been said, "Love is blind," however I believe it is more precise to say, "The desire for love can be blinding." Whenever we focus on something or somebody above all else, including God and the voice of the Holy Spirit, we become blind to him, his Word, wise counsel and to common sense.
The first person said, "I should know what to do, but I don't." I believe she does know what to do, but just doesn't like the answer she hears; otherwise there would be no "main problems." When God joins two people together, there won't be a feeling of doing something wrong.
Most of us know the stories of Joseph and of King David.
Joseph was "well-built and handsome" and his master's wife said, "Come to bed with me!" (Genesis 39:6-7) Joseph was a single guy and probably had typical male urges, but his godly response was to run away, and God blessed him for his faithfulness.
King David on the other hand allowed himself to be transfixed by Bathsheba bathing nearby and overlook what he knew was right and summoned for her in order to sleep with her (2 Samuel 11:2-4). That wrong choice was followed up by many more, which eventually led to the death of Bathsheba's husband. King David gave into temptation and failed to walk away.
Most of us know what is right and wrong, just like Joseph and David, but as a testament to our amazing (God-given) creative abilities, we reason and justify why "this time" is okay because our situation is "different." We can easily lose sight of right and wrong and the consequences of our actions when we allow our emotions to get the better of us.
I'm reminded of the movie, Indiana Jones and the Last Crusade where Indiana and his father search for the Holy Grail (the cup Jesus supposedly drank out of at the Last Supper). After they find the grail and the healing power of it, it falls into a crevasse. One of their nemeses chooses to reach for it rather than accept their help and she falls to her death. Indiana faces the same decision as he goes after the grail, but his father says, "Indiana, let it go." When Indiana realizes his father cares more about him than the grail (and wasn't meant to have it), Indiana accepts his father's help to safety.
Have something to say about this article? Leave your comment via Facebook below!
advertise with us
Example: "Gen 1:1" "John 3" "Moses" "trust"
Advanced Search
Listen to Your Favorite Pastors