He Said-She Said: Praying for Specific Qualities in a Spouse
Cliff Young & Laura MacCorkle, Crosswalk.com Contributing Writer & Senior Editor
Thursday, November 26, 2009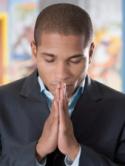 EDITOR'S NOTE: Each He Said-She Said column features a question from a Crosswalk.com reader with responses from a male and female point of view. If you've got a question about anything related to singleness, please click here to submit (selected questions will be posted anonymously).

QUESTION: Is it wrong to pray specifically for those things we want in a spouse and for how we want a spouse to look?
HE SAID: When I was a teenager, I was encouraged to start formulating those attributes I would want in a spouse, like a "Top 10" list. I was told if I didn't know what I was specifically looking for, I would never find it. Since becoming a believer in Christ, I have been taught to "pray fervently, constantly and without ceasing, and I will receive the desires of my heart."
I have sometimes wondered how this relational logic and continuous prayer relate to one another as I pray for my future spouse.
I think you're essentially asking the same thing, "Do these two lines of thought coincide, if so, how?" Furthermore, "What can do we do to maintain our sense of hope in the midst of our singleness?"
First of all, we should have definite things we are looking for (and not looking for) in our spouse and we should be incessantly praying for them. However, when it comes to praying for the "specificities," we need to be cautious how meticulous we are scrutinizing over our own desires and with the people we meet.
As Christians, our primary requirement of a spouse should be one who shares the same spiritual convictions as our self. Our belief, trust and faith in Jesus should be the foundation for our life and for our marriage. This has to be a non-negotiable.
Do not be yoked together with unbelievers. For what do righteousness and wickedness have in common? Or what fellowship can light have with darkness? (2 Corinthians 6:14)
Beyond a common faith and being "equally yoked," the Bible does not explicitly denote any other "musts" believers should share in a relationship.

Some may prefer a person who comes from a large (or small) family, grew up in a Christian home, is a college or seminary graduate, is taller (or shorter) than you, comes from the same area, has specific hair color, is of the same ethnicity, works in a specific profession, etc., and many of these things can be influential in a marriage.
However, these are preferences, many of which a person has little or no control over. When compiling a list of desires in a future spouse, we should consider the qualities of a person's character and values that guide their life, before the circumstances of their environment or what "genes" they have inherited from their family (although we do need to be attracted to the person).
We are bombarded by every form of media telling us the "things" we should be looking for in a spouse and the "ways" we can get that spouse. These "things" are predominantly not "of God," but "of men." A better place to begin searching for the qualities and traits to focus on (and pray for) is in Galatians 5:22.
The fruit of the Spirit is love, joy, peace, patience, kindness, goodness, faithfulness, gentleness and self-control.
Along with determining the characteristics we desire in a spouse, we should also be cognizant of God's plan and desire for our life. After many years, I have discovered I don't know everything there is to know about God or his methods (surprise!) and I have learned not to try to figure him out anymore. His ways are not my ways.
Have something to say about this article? Leave your comment via Facebook below!
advertise with us
Example: "Gen 1:1" "John 3" "Moses" "trust"
Advanced Search
Listen to Your Favorite Pastors