He Said-She Said: Praying for Specific Qualities in a Spouse
Cliff Young & Laura MacCorkle, Crosswalk.com Contributing Writer & Senior Editor
Thursday, November 26, 2009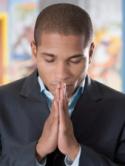 Many who may not have fit perfectly into my earlier "list" may be the exact person I need to complement my strengths and personality. I may think I know what I want, but only God knows what I need.
Establish those characteristics and values you want most in a spouse, lift your prayers and desires to the Lord, minimize your pre-conceived parameters or notions on whom, how, when or where you will meet your future spouse, step out of your comfort zone, take advantage of all opportunities, place your hope in him, trust in God and look for him to work in some amazing ways.
"For I know the plans I have for you," declares the Lord, "plans to prosper you and not to harm you, plans to give you hope and a future" (Jeremiah 29:11).

SHE SAID: Is it wrong to pray specifically when it comes to any matter in our lives?
Should we not pray about healing from a particular disease? About a job we are interviewing for? About a familial squabble that needs resolution? About whether or not we should go back to school? About believers undergoing persecution in a certain country across the globe?
I think not.
God's Word simply—and plainly—instructs us to bring our requests to him:
Do not be anxious about anything, but in everything, by prayer and petition, with thanksgiving, present your requests to God. And the peace of God, which transcends all understanding, will guard your hearts and your minds in Christ Jesus (Philippians 4:6-7).
The danger, I believe, lies in this: if we don't truly give over our requests to God and trust that he will work it out according to his plan, then we will worry and be anxious. We will be fixated on our circumstances and on these issues in our lives. We will be wasting our time (as Christ's ambassadors) here on earth. And we won't be any use for what God wants to do in and through our lives for his Kingdom.
There is nothing wrong with asking God for specifics when it comes to a spouse (I don't know of any verse in Scripture that prohibits this). However, know that all of us form and fashion our own ideas of what we think we need in a spouse. But ultimately God knows best who and what will be suitable for each of us. That can be a hard pill to swallow. It means giving up control of who you think you should marry.
But you may be thinking:

I don't want to marry someone I'm not attracted to.
I don't want to marry someone who doesn't make me laugh.
I don't want to marry someone who's not making x-amount of dollars per year.
I don't want to marry someone who doesn't fit in well with my friends or family.

What if God pairs me with someone who is boring?
What if God pairs me with someone who is overbearing?
What if God pairs me with someone who doesn't understand me?
What if God pairs me with someone who doesn't seem interested in what interests me?
Hey, I'm right there with you! I don't want to be matched with someone who I don't think is right for me either. But the older I get, the more I see myself trusting my Father in this area. And the more I have seen my list of specific qualities that I desire in a mate become shorter and shorter.
I think I've narrowed it down to the most important ones now. Yes, there are a few "must haves" and also some "deal-breakers," but I've also seen how the Lord has changed the desires of my heart and caused me to be interested in people who I never would have considered perhaps five or ten years ago. In fact, if I showed you what used to be on my list of "spouse specifics," you would probably laugh. I had some very narrow-minded notions—right down to height, hair color and very detailed personality traits. (Okay, truth be told, the "height requirement" is still on there. But a tall gal's gotta do what she must do.)
Have something to say about this article? Leave your comment via Facebook below!
advertise with us
Example: "Gen 1:1" "John 3" "Moses" "trust"
Advanced Search
Listen to Your Favorite Pastors