He Said-She Said: Talking About Remarriage
Kris Swiatocho, Cliff Young
Thursday, March 14, 2013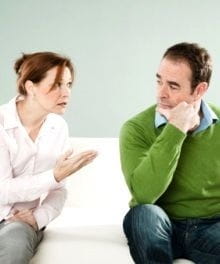 EDITOR'S NOTE: He Said-She Said is a biweekly advice column for singles featuring a question from a Crosswalk.com reader with responses from a male and female point of view. If you've got a question about anything related to singleness or living the single life, please submit it to hesaid-shesaid@crosswalk.com (selected questions will be posted anonymously).
QUESTION: I'm divorced and in my 30's and the man I'm dating is widowed and in his 40's. We have been dating for about 4 1/2 months. We are both believers and active at church. We also both have stated up front that we are marriage minded, as opposed to being in long-term relationships that do not progress toward marriage.
My first marriage was 15 years and abusive, but with God's grace and my own work on myself as well, I've healed. The divorce is more than 3 years in the past and I've come to be a whole person in that time. The man I'm seeing is also several years past his wife's passing (at a young age) of cancer and he has also done the work of healing and becoming whole again.
We have broached the subject of marriage. I've told him I don't want to be someone's companion, a "fill-in" for someone's loneliness. He has agreed he doesn't want to do that either. After mentioning this a few times, and after about three months of dating, he says that he does want to get engaged and get married (the implication being at some point in the future). However, when we talk about marriage or engagement specifics he says he is uncomfortable. Despite saying we are both marriage-minded, he says he wants to wait until the time is right. I understand waiting until the time is right to get engaged, I don't understand feeling "pressured" when I want to talk about a timeline.
I've made him aware that as a single parent, it takes energy for me to support both my role as a single mom and my role of being in a relationship again when it's not a marriage. I can only do that for so long. We get along great when we are together, we are committed to waiting until marriage before having sex, and he is great with my kids. All the earmarks of a great relationship and potentially a great Christian marriage are there.
So I'm wondering....why, if he plans on being married to me at some point in the near future (his words), is he uncomfortable talking about it? He says he doesn't want to set a date until after he has bought a ring and we are engaged. On one hand that makes sense but on the other hand, if you say you love someone and are planning on marrying them, why be uncomfortable talking about it? The topic comes up about twice a month I would guess.
I told him at about the six month mark I'd like to be engaged just because I don't want a long drawn out relationship that seems to be headed nowhere. He got a little upset because he felt that was too soon to get engaged, but yet he didn't want to break up with me either. I know he loves me and loves being around me. And the feeling is mutual. He sounds either stuck, or scared, or just coasting, and I'm not sure why. I'm not sure if that's a red flag or not.
I've looked for all the earmarks of red flags and there have been none. No character issues on either of our parts or emotional problems. No addictions. My family likes him and feels God's hand is on this. I prayed for a mate and he is basically the only person I've dated since my divorce, despite being involved in singles ministry at church. I feel like this is the man God brought to me. This man is the only man who has shown an interest, for the right reasons as far as I can tell, and so I also am inclined to believe God's hand is on this. An additional note is that neither of us has any debt, with the exception of his mortgage. Emotionally, financially and spiritually, we seem to have a great match and potential for marriage.
Have something to say about this article? Leave your comment via Facebook below!
advertise with us
Example: "Gen 1:1" "John 3" "Moses" "trust"
Advanced Search
Listen to Your Favorite Pastors