He Said-She Said: When Parents Interfere
Cliff Young & Laura MacCorkle, Crosswalk.com Contributing Writer & Senior Editor
Thursday, May 26, 2011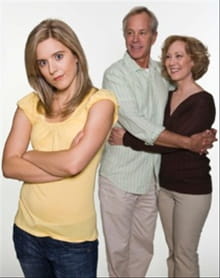 EDITOR'S NOTE: Each He Said-She Said column features a question from a Crosswalk.com reader with responses from a male and female point of view. If you've got a question about anything related to singleness or living the single life, please submit it to He Said-She Said (selected questions will be posted anonymously).
QUESTION: My parents (unbelievers) are threatening to disown me if I "dare" to marry my boyfriend (a believer) of one year, based on the reasons that they feel he is not good enough and need to look elsewhere. Although he is amazingly kind, has a solid career, owns a home, and makes me wonderfully happy, they are threatening him and I. The threats have gotten so bad that my boyfriend, who once wanted to marry me, is now wanting out. He does not want to associate with future in-laws who put him down so badly with superficial reasons, which could possibly turn into more hate down the road. I'm so devastated and truly embarrassed by my parents' controlling behavior and it's destroying my relationship. Because we are not married, I cannot cleave to him like the Bible says unless he was my husband. Why is the Lord allowing us to be ripped apart by non-believers?

HE SAID: It's difficult to comprehend why God allows for such things to happen when circumstances seem to be so "clear" to us, although disagreements and conflicts can sometimes cause us to face a malady in our own life, protect us from making a possible mistake or create a better situation in the long run.
Instead of trying to find solace by convincing ourselves there IS some reason behind it or remembering he is in control, maybe we need to seek to "understand" before trying to be "understood" and ask "why?" before demanding "why not?!"
If you aren't doing so already, pray for your parents to receive the Lord into their lives. Even more important than finding a mate on earth is leading others to heaven.
You obviously respect your parents and want their approval, otherwise you wouldn't have taken the time to write and ask for our opinion in how to solve this dilemma, nor care about theirs. I would also surmise you are living at home and as a result probably answer to your parents more than you desire.
With this in mind, the place to begin your process of discovery is to pray your parents will understand and accept the feelings you have for your boyfriend. Notice I didn't say pray your parents will change their mind about him or agree with you, although that is probably what you may ultimately want.
Even though they are non-believers, they are your parents and should be honored.
Honor your father and your mother, so that you may live long in the land the LORD your God is giving you (Exodus 20:12).
One of the most profound ways you can live that out in front of them is by giving them respect and taking a moment to listen to their thoughts and opinion no matter how much you may oppose them.
I would suggest you schedule a time with your parents to discuss (not argue about) your relationship with your boyfriend. There are no doubt high emotions on both sides surrounding the issue, and I would suspect there is a lot more to their non-acceptance of him than what they are saying (or what you are hearing).
Allow your parents the opportunity to share with you in a (hopefully) calm and loving way (and in a neutral location) what their true and honest feelings are. Encourage them to speak their entire mind not holding anything back and without any interruption. As they do, don't formulate a rebuttal, but try to remember the following verse.
Have something to say about this article? Leave your comment via Facebook below!
advertise with us
Example: "Gen 1:1" "John 3" "Moses" "trust"
Advanced Search
Listen to Your Favorite Pastors