Did God Tell Him to Break Up With Me?
Kris Swiatocho, Cliff Young
Thursday, July 24, 2014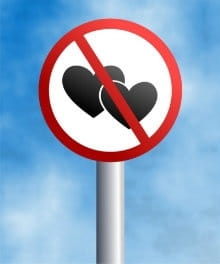 EDITOR'S NOTE: He Said-She Said is a biweekly advice column for singles featuring a question from a Crosswalk.com reader with responses from a male and female point of view. If you've got a question about anything related to singleness or living the single life, please submit it to hesaid-shesaid@crosswalk.com (selected questions will be posted anonymously).
QUESTION:
My boyfriend recently broke up with me stating that "something felt wrong deep in his heart." It really devastated me, as I thought he would be the man I was to eventually marry. I have been experiencing the grief that comes with ending an intimate relationship but the more time that passes the more I get a feeling of "wrongness" in my heart. If he felt it was "wrong" to be together and I feel that it is "wrong" to be apart - what should be done? Is God talking to one, both, or neither of us? And if he is talking to both of us, why would the message be contradictory?
HE SAID:
I am truly sorry for your disappointment. Any break-up is tough, whether mutually agreed upon or (particularly) one-sided ones, and there obviously seems to be some unresolved feelings on your part, that time has neither healed nor given you any peace about.
As difficult as it may be for your ex-boyfriend to put into words, as a courtesy and respect to you, he probably needs to explain further what he means by, "something felt wrong deep in my heart." One thing to keep in mind though, not everyone makes decisions in response to a godly leading.
Believe it or not, sometimes relationships are based strictly upon emotion, not on logic, compatibility, reality, true love or even God's voice. That's why friends, family and even outsiders can often recognize something happening (or not) in a relationship the individuals can't.
It may be idealistic, but a person shouldn't have to convince another to be with them. I understand this isn't some amazing piece of wisdom, but in light of half of all marriages ending in divorce, it seems as if many are choosing to settle for some momentary feeling rather than make an unbreakable commitment to the relationship and an individual.
If you strongly feel God has revealed your ex-boyfriend is the man he has chosen for you, or if you just need more clarity for the reason he broke off your relationship, you need to ask to sit down with him to talk it out. It could be something as simple as a timing issue (the right person at the wrong time), cold feet, or God telling him to back off.
In any event, we are all given the opportunity to make our own choices and responsibility to live with the ensuing consequences. No matter how righteous the conviction we have, we cannot force it upon another.
SHE SAID:
I am so sorry you heart is breaking right now. I can totally relate and have walked in your shoes. Please know in any relationship, our feelings and emotions can speak for us without any basis of real truth. The spiritual maturity of you and your boyfriend will affect every decision made. If your boyfriend (and your relationship) is following God, then you do need to trust that your boyfriend's decision was made by God and not just him.
However, if you are in doubt, and think he made this decision based on fear of commitment, fear of marriage, fear of the next step, or some other fear, your boyfriend may simply need some time to realize you are the one for him. He may need some time to work on himself. This is where the waiting has to begin and believe me, this is not a fun part. Please understand, you may be the obedient part of your relationship (in following God), while he is not. You cannot make him love you or date you. This is something he has to do on his own and hopefully as the Lord leads.
Recently on He Said-She Said
Have something to say about this article? Leave your comment via Facebook below!
advertise with us
Example: "Gen 1:1" "John 3" "Moses" "trust"
Advanced Search
Listen to Your Favorite Pastors