Bi-Racial Dating Causing Family Drama?
Kris Swiatocho, Cliff Young
Thursday, February 28, 2013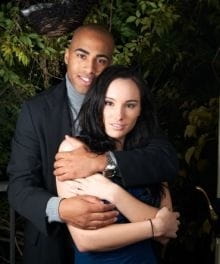 EDITOR'S NOTE: He Said-She Said is a biweekly advice column for singles featuring a question from a Crosswalk.com reader with responses from a male and female point of view. If you've got a question about anything related to singleness or living the single life, please submit it to hesaid-shesaid@crosswalk.com (selected questions will be posted anonymously).
QUESTION: I'm really attracted to a girl in my young adult's group. I'm black and she is white, which is not a problem for me and I don't think it is for her. The issue is her family. During one of our meetings she mentioned in passing how her family would not be (let's just say) "pleased" if she brought a black guy home. I can see a possibility that it could get serious between us, but I don't want to cause a rift in her relationship with her family. I don't know how this could affect our relationship (if we ever have one) short and long term. Any advice would be great.
HE SAID:
No matter how advanced of a society we are (or pretend to be), there always seems to be those age-old obstacles and impediments we seem to run into all too often.
The Bible frequently speaks of those who should not be "yoked" or joined together in marriage; however, each of these cases refer to those who are dissimilar, not because of a difference of skin color, but rather the result of not following and worshipping the same God.
You shall not intermarry with them, giving your daughters to their sons or taking their daughters for your sons, for they would turn away your sons from following me, to serve other gods. Then the anger of the Lord would be kindled against you, and he would destroy you quickly (Deuteronomy 7:3-4).
In fact, God does not see the "outward-ness" we are often influenced by, nor does he allow it to influence His love for us. He cares about our heart and soul.
So Peter opened his mouth and said: "Truly I understand that God shows no partiality" (Acts 10:34).
There is neither Jew nor Greek, there is neither slave nor free, there is no male and female, for you are all one in Christ Jesus (Galatians 3:28).
God does not judge by outward appearance (Galatians 2:6).
If you are both attending the young adult's group, it can be safe to assume you both are "of age" and can make decisions for yourself. However, if your "interest" is still living at home, under the shelter of her parents, there is definitely the concern to engage her parents in your dating process.
What I would suggest in your case, and any situation where there is a "difference" – be it culture, age, or denomination, is to sit down with her parents, share with them who you are and ask them for permission to date their daughter.
I understand this may seem "old-fashioned' or "archaic," but if you really desire the blessing of her parents and want to her to maintain a strong relationship with them, you must respect them and be concerned for her feelings towards her family.
If they don't grant you "permission" to date her, and you are convinced she is the one God wants you to be with, continue to be a really good friend to her, but respect their wishes. Over time, if she is the one God wants you to spend the rest of your life with, He will clear your path.
Recently on He Said-She Said
Have something to say about this article? Leave your comment via Facebook below!
advertise with us
Example: "Gen 1:1" "John 3" "Moses" "trust"
Advanced Search
Listen to Your Favorite Pastors