Could My Dreams Be a Sign From God?
Kris Swiatocho, Cliff Young
Thursday, February 14, 2013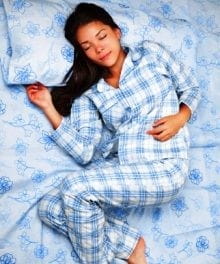 EDITOR'S NOTE: He Said-She Said is a biweekly advice column for singles featuring a question from a Crosswalk.com reader with responses from a male and female point of view. If you've got a question about anything related to singleness or living the single life, please submit it to hesaid-shesaid@crosswalk.com (selected questions will be posted anonymously).
QUESTION: I have had dreams of meeting and being married to a specific person of my acquaintance - but before we even met! I met him at a wedding last year, although I had no idea he would be there. One of my friends suggested to me several years ago that this guy might be a suitable alliance for me, so I have been praying about it since 2010. Could my dreams be prophetic - a sign from God? What does God's word say about revealing his will and guidance through dreams?
HE SAID:
Throughout the Bible, many of God's people received guidance, instruction and direction through their dreams.
Joseph had many dreams in his youth which were a premonition of where God was going to take him (Genesis 37). He also received insight to interpret the dreams of others (Genesis 40).
Gideon received a message from God through the dream of one of his enemies (Judges 7).
Daniel was gifted with understanding visions and dreams for King Cyrus (Daniel 1).
God spoke through visions to guide and direct their path and the same could be true for you, and may have been disclosing who you would marry someday through your dreams.
Listen to my words: 'When a prophet of the Lord is among you, I reveal myself to him in visions, I speak to him in dreams' (Numbers 12:6).
I would be remiss if I didn't encourage you to stay in prayer about the matter and caution you at the same time to keep your emotions in check until you are sure this is God speaking. Guys can get sort of freaked out knowing a girl they don't really know had a dream about marrying them.
A number of my friends (male and female) are "public" figures and I have stood witness as they were approached by total strangers who expressed, "God told me we were going to get married" or "I had a dream we were supposed to be together." Some went into some extravagant detail of what God had "showed" them. Trying not to be disrespectful to them, their response helped me to formulate my thoughts on this matter – "When God shows me, I will let you know."
When God calls two people to be together, unified in His name, He will let both parties know. He won't just tell one and leave the other in the dark.
What I have found to be true when I pray fervently for something, am troubled by some body or incident, or just have something at the forefront of my thoughts is I have dreams about it.
When he, the Spirit of truth, comes, he will guide you into all truth. He will not speak on his own; he will speak only what he hears, and he will tell you what is yet to come. He will bring glory to me by taking from what is mine and making it known to you (John 16:13-14).
May the Sprit make known to you the truth of God and lead you to whom He has chosen in His time.
SHE SAID:
Recently on He Said-She Said
Have something to say about this article? Leave your comment via Facebook below!
advertise with us
Example: "Gen 1:1" "John 3" "Moses" "trust"
Advanced Search
Listen to Your Favorite Pastors