Playing "Second Fiddle" to His Ministry
Kris Swiatocho, Cliff Young
Thursday, November 22, 2012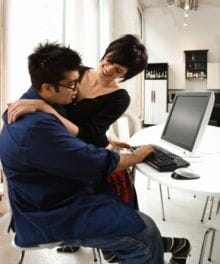 EDITOR'S NOTE: He Said-She Said is a biweekly advice column for singles featuring a question from a Crosswalk.com reader with responses from a male and female point of view. If you've got a question about anything related to singleness or living the single life, please submit it to He Said-She Said (selected questions will be posted anonymously).
QUESTION: My boyfriend and I have been in a serious relationship for a year and a half. I would really like to see him working for us to get married but he says he is not called to have a secular job. He and his friend are the founders of a missionary organization which has been really blessed by God, but it seems to be preventing our relationship from moving forward. I struggle with being second in his life, because ministry is first right now. Am I missing a sign? I love him and want to marry him, but I am also very independent and can be completely okay on my own.
HE SAID:
When I read about your circumstance, I couldn't help but hear the words Paul spoke to the Corinthians resonate in my mind.
An unmarried man is concerned about the things of the Lord, how to please the Lord. But a married man is concerned about the things of the world, how to please his wife, and he is divided.
The struggle you are having appears to be the result of a difference of direction for the both of you at this point in your lives.
Your boyfriend has co-founded this missionary organization and is spending more time on his calling rather than on his relationship with you. As a result of his efforts though, the ministry has been blessed by God.
Even though you clearly see this, you want something else for him and for your relationship. You want to get married, you want him to work a secular job and you want him to put you first in his life. As difficult as it may be to hear (and accept), your boyfriend may not be the one God has called you to be with, at least not for now.
This is not to say it won't ever happen or you are wrong to have the feelings you do, nor he "more right" for working so hard on his ministry. We are all created differently, called to different purposes for a specific time and place.
This may not always be the case in your boyfriend's life, but according to your own words, and at this moment of time he seems to be a man concerned about the things of the Lord, rather than things of the world.
If his work is truly blessed by the Lord, as much as you love him and want to marry him, deep down you probably know you don't want to be the one who keeps him from doing what God has called him to do.
It sounds as if you have put pressure on him to make a choice. Give him some time and space. If you continue to put a full-court press on him to make a decision, he will likely choose his calling over you.
To the unmarried and widows I say that it is best for them to remain as I am.
SHE SAID:
All relationships can be hard at times, but being in a relationship with someone so devoted to ministry can be extra hard. I am in full-time ministry myself, making my personal time for others a challenge. Let me first pose some questions to you. You say you have been in a serious relationship for a year in a half. Serious to the point that you have talked about marriage? You have implied that he feels he would need to give up his ministry to marry you. Why do you think he would need to do this? There are many married people in full-time ministry. What a way to build your marriage, your relationship, by having you both support his ministry.
Recently on He Said-She Said
Have something to say about this article? Leave your comment via Facebook below!
advertise with us
Example: "Gen 1:1" "John 3" "Moses" "trust"
Advanced Search
Listen to Your Favorite Pastors