He Said-She Said: Women in the Workplace?
Kris Swiatocho, Cliff Young
Thursday, January 24, 2013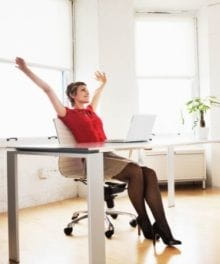 Also, please know there are a many women in the Bible who contributed to the work force. Now, personally I do think if a married couple has the financial ability for the wife or husband to stay home and raise a family vs. working, they should do it. I value the time my mom was with me and my brothers growing up. I think it's hard to have both parents working. However, until you are married (or even after), working outside the home is as much your right as a man's. In fact, based on the examples below, it can be very valuable to the kingdom. This is something you would have to pray about when the time comes. So here are a few women that should encourage you as God leads you:
Lydia, Business Owner
Acts 16:14 A woman named Lydia, from the city of Thyatira, a seller of purple fabrics, a worshiper of God, was listening; and the Lord opened her heart to respond to the things spoken by Paul.
Rachel, Shepherdess
Genesis 29:9 While he was still speaking with them, Rachel came with her father's sheep, for she was a shepherdess.
Phoebe, Missionary
Romans 16:1 I commend to you our sister Phoebe, a servant of the church in Cenchrea.
Priscilla, Missionary and Tent Maker
Deborah, Ruler
Judges 4:4 Now Deborah, a prophetess, the wife of Lappidoth, was judging Israel at that time.
Queen Vashti, Hostess
Esther 1:9 Queen Vashti also gave a banquet for the women in the royal palace of King Xerxes.
Esther, Queen
[Book of Esther 1]
Deborah, Nurse
Genesis 35:8 Now Deborah, Rebekah's nurse, died, and she was buried below Bethel under the oak; it was named Allon-bacuth.
Wife of Noble Character, Land Owner
Proverbs 31:16 She considers a field and buys it; From her earnings she plants a vineyard.
Midwife
Exodus 1:15 Then the king of Egypt spoke to the Hebrew midwives, one of whom was named Shiphrah and the other was named Puah...
Also, Please remember, Galatians 3:28 There is neither Jew nor Greek, there is neither slave nor free, there is no male and female, for you are all one in Christ Jesus.
Pray and ask God for the strength to be who He wants you to be, where to work and how to serve. We are the light in this dark world, even a world filled with backward thinking men (and sometimes women). God may one day call you to stay home and that is great but if not, all works for His purpose.
HE is … Cliff Young, a Crosswalk.com contributing writer and a veteran single of many decades. He has traveled the world in search of fresh experiences, serving opportunities, and the perfect woman (for him) and has found that his investments in God, career and youth ministry have paid off in priceless dividends.
Recently on He Said-She Said
Have something to say about this article? Leave your comment via Facebook below!
advertise with us
Example: "Gen 1:1" "John 3" "Moses" "trust"
Advanced Search
Listen to Your Favorite Pastors