How Can I Attract Someone My Own Age?
Kris Swiatocho, Cliff Young
Thursday, December 27, 2012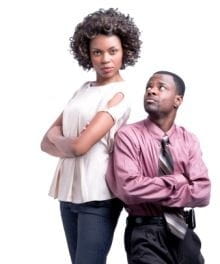 EDITOR'S NOTE: He Said-She Said is a biweekly advice column for singles featuring a question from a Crosswalk.com reader with responses from a male and female point of view. If you've got a question about anything related to singleness or living the single life, please submit it to hesaid-shesaid@crosswalk.com (selected questions will be posted anonymously).
QUESTION: I'm 30 years old and single, but all the guys who have wanted to friends with me, or have proposed to move our relationship up to the next level, have been younger than me by at least a few years. I don't understand this cycle. How can I attract men my own age?
HE SAID:
Should I presume you have not allowed your former friendships and relationships to develop due to the fact your suitors were younger than you?
Sometimes it's difficult to look beyond those societally ingrained relational (and often superficial) parameters many of us have grown to accept – the woman should be shorter than the man (but not by a lot), the couple should be proportional to each other (or they'll look strange together), the man should be older than the woman (but not by "too" much), they should be of a similar economic status (otherwise one is after the other's money), etcetera, etcetera.
There's also the consideration of maturity and "life-experience" level which doesn't necessarily take into account "age."
Several of my married friends are coupled where the woman is older than the man, and their relationship seems to work just fine. To make a general decision not to date a person just because he is a couple of years your junior seems limiting, especially as you get older.
It can be difficult not to "listen" to the media tell us how to act or what a relationship should look like, but I have to question any non-Biblical advice when the "success rate" for marriages sits at fifty-percent ("Christian marriages" don't fare much better, but that's a whole another topic).
When it comes down to it (from what I can find), the Bible only speaks to the fact we should not be joined with someone whom we are not spiritually compatible.
Do not be yoked together with unbelievers. For what do righteousness and wickedness have in common? Or what fellowship can light have with darkness? (2 Corinthians 6:14)
Everything else is just society-accepted "rules."
Having said that, "attracting men of your own age" may have a lot to do with perception. How you are dressed, the activities you participate in, the manner in which you conduct yourself and your "passion" can all contribute to (or impact) those who are attracted to you.
You may want to consider dressing a little more "professional," getting involved in church activities directed at an older audience or socializing in places where a more mature clientele frequents to attract men closer to your age.
SHE SAID:
Thanks so much for your question. Maybe you are attracting these men at first because you look much younger. So even after dating, your age difference doesn't matter because they like you as you are? Another reason could be that you come across with confidence, self-assurance, or independence. These may be qualities younger men are looking for these days. If you have your stuff together, own a home, have a good job, are maturing in your faith...all of these could be things these younger guys are looking for in a woman their age. However, they aren't able to find it so they are attracted to you.
Recently on He Said-She Said
Have something to say about this article? Leave your comment via Facebook below!
advertise with us
Example: "Gen 1:1" "John 3" "Moses" "trust"
Advanced Search
Listen to Your Favorite Pastors