Is it a Sin to Marry a Divorced Person?
Kris Swiatocho, Cliff Young
Thursday, July 25, 2013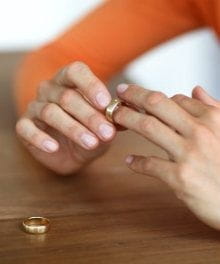 EDITOR'S NOTE: He Said-She Said is a biweekly advice column for singles featuring a question from a Crosswalk.com reader with responses from a male and female point of view. If you've got a question about anything related to singleness or living the single life, please submit it to hesaid-shesaid@crosswalk.com (selected questions will be posted anonymously).
QUESTION: Would I be sinning to marry a divorced woman? The woman I love left her ex-husband due to battery, not adultery. I've read several passages in the Bible where our Lord Jesus Christ condemns marrying a divorcee.
HE SAID:
I have asked myself the same question over the years as I contemplated pursuing relationships with women who have been divorced; however you have already started down that road and face an even more difficult one.
God takes the union of two people in marriage very seriously; however, at times many of us rush into (and out of) His Will, don't listen to His voice, or choose to "do our own thing." As a result (of not following Him explicitly) we sometimes (feel we made a mistake and) want a "do-over."
Divorce is often the consequence of those relational decisions in conjunction with the selfishness of one or both parties in a marriage. Sadly, some reports now have "Christian" marriages ending even more often than "non-believers."
"I hate divorce," says the LORD God (Malachi 2:15-16).
What God intricately joins together physically, mentally, emotionally and spiritually, separated (or ripped apart) by man can leave a scarring only He can heal and maybe that's why He is so stringent on the topic.
But I tell you that anyone who divorces his wife, except for marital unfaithfulness, causes her to become an adulteress, and anyone who marries the divorced woman commits adultery (Matthew 5:32).
These are some pretty harsh words which are probably debated on both sides by mature, educated and knowledgeable believers. However, each of us must make a determination and choice on our own as to how He is speaking to you on the topic.
The disciples said to him, "If this is the situation between a husband and wife, it is better not to marry." Jesus replied, "Not everyone can accept this word, but only those to whom it has been given. For some are eunuchs because they were born that way; others were made that way by men; and others have renounced marriage because of the kingdom of heaven. The one who can accept this should accept it" (Matthew 19:10-12).
I cannot conclude whether or not you would be sinning; that is only something you can decide after seeking the Lord's direction for yourself.
SHE SAID:
This is one of those questions that has a lot of answers depending on what church denomination you belong to. First, in my opinion (I am a daughter of a divorced parents as well as a leader in single adult ministry) no, it's not a sin to marry a divorced woman. Because God takes marriage and divorce very seriously due to how many people it affects - including God (Mark 10:9: "Therefore what God has joined together, let no one separate."), he hates it when people divorce. He knows the pain it's going to cause so many people. In all the years I have led singles ministry I have yet to meet anyone that said their divorce was wonderful. There is always pain.
Recently on He Said-She Said
Have something to say about this article? Leave your comment via Facebook below!
advertise with us
Example: "Gen 1:1" "John 3" "Moses" "trust"
Advanced Search
Listen to Your Favorite Pastors