Is Kissing Before Marriage Really a Sin?
Kris Swiatocho, Cliff Young
Thursday, September 12, 2013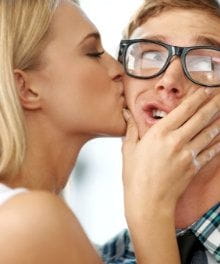 EDITOR'S NOTE: He Said-She Said is a biweekly advice column for singles featuring a question from a Crosswalk.com reader with responses from a male and female point of view. If you've got a question about anything related to singleness or living the single life, please submit it to hesaid-shesaid@crosswalk.com (selected questions will be posted anonymously).
QUESTION: A younger relative of mine was recently seriously rebuffed by his lady friend (they are both in their 30's) for asking if he could kiss her. They have been seeing each other very seriously for a while, and he has wanted some indication of her affection for him. But when he asked to kiss her, his dedication to God was questioned and the young woman made him feel like slime. Is this a generational thing I've missed out on? Is kissing before marriage a sin?
HE SAID:
Affection within a dating relationship will always be a much disputed and often heated debate. Christians can't seem to agree on doctrine let alone personal conduct in a relationship. Particularly when it comes to kissing, we will never have a clear cut consensus among believers as to the appropriateness of how far one should (or can) go when dating.
So whether you eat or drink or whatever you do, do it all for the glory of God. Do not cause anyone to stumble, whether Jews, Greeks or the church of God (1 Corinthians 10:31-32).
Our actions should not cause someone else to misinterpret the Bible, find justification for wrong behavior, nor lead them to or exacerbate a problem they may already be struggling with. The difficulty comes when one person feels free to act in a certain way while another does not.
I don't see this woman's reaction as a "generational thing." In fact, it almost seems contrary to what society is touting for relationships. With our grade schools handing out condoms to alleviate the problem of teen pregnancy, the "appropriateness of kissing" conversation doesn't even show up on the relational conduct radar of young people these days.
Bottom line is your relative asked for permission to kiss her instead of assuming she wanted him to like most men do. Her response seemed to be a little legalistic in nature and wrong for her to retaliate in such a way to such a courteous request from a close friend.
If they have been seeing each other "very seriously," I would think she would have given some indication of her stance against kissing along the way. Obviously she has some strong opinions and it may indicate there is a personal history behind it. Both of them need to take some time to discuss their feelings for one another and on the topic of physical affection before moving any further.
SHE SAID:
Wow, my first thought is how great this is! I wish I was a kiss virgin. I wish I had saved all my kisses for the "one" but I haven't. Bummer!
Then I thought, really? Are they Amish? Are they some type of denomination that frowns upon kissing? Surely if this guy has been seeing her for some time the subject would have come up. I mean, me and my friends talk about it from time to time. I have clearly shared how I would like to save my next kiss for the altar. However, I am not sure if I can. I just don't know if my hormones would last that long. Well, I guess I could get married after my first date... but that brings up a whole mess of other issues. My friends, the ones closest to me, know that I will not have sex or anything that even looks close to it before I marry. They know I will be OCD about being alone, protecting what God has entrusted to me and my possible husband-to-be.
Recently on He Said-She Said
Have something to say about this article? Leave your comment via Facebook below!
advertise with us
Example: "Gen 1:1" "John 3" "Moses" "trust"
Advanced Search
Listen to Your Favorite Pastors