Older Singles Need Resources Too
Cliff Young & Laura MacCorkle, Crosswalk.com Contributing Writer & Senior Editor
Thursday, November 10, 2011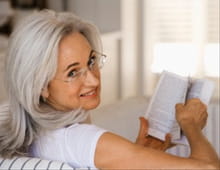 EDITOR'S NOTE: He Said-She Said is a biweekly advice column featuring a question from a Crosswalk.com reader with responses from a male and female point of view. If you've got a question about anything related to singleness or living the single life, please submit it to He Said-She Said (selected questions will be posted anonymously).

QUESTION: I am in my 50s, a single Christian woman, childless, with no family nearby. I am craving good books or other avenues for learning about living as a single Christian woman as I get older. In most of the books I have read by Christian women, they talk so much about their relationships with spouses, children, parents, etc, or are geared to young single Christian women . . . and I 'tune out.' Is there a book for me? (Maybe I should write one!)
HE SAID: I have to somewhat agree with your assessment of the material available for those "seasoned without children" singles, yet there is one author whom I've had the pleasure to know and work with for the past ten years who may have something you're looking for.
This amazing Christian woman is a slight bit older than you (she says she's seventy plus) and has never been married, nevertheless has lived out her years like no one else I know and lives younger than many "whippersnappers" ever will.
The incredible woman I'm speaking of is Luci Swindoll. She is a successful businesswoman, accomplished vocalist, talented artist, Women of Faith speaker and best-selling author.

She shares her ongoing journey as a single woman in all of her books, but ones I would recommend are I Married Adventure and Doing Life Differently: The Art of Living with Imagination.
I Married Adventure is an autobiographical memoir tracing Luci's years through personal photographs, sketches and stories rooted in her Christian heritage. She takes you on a voyage through her life, not as a lonely single woman, but rather as an explorer searching for the next unknown quest to conquer. Her singleness is not one of regret for what she could have had in marriage, but only for adventures she did not have time to challenge.

Doing Life Differently: The Art of Living with Imagination is a continuation of Luci's insightful voyage through life. She says, "Adventure is an attitude, not a behavior." Too many of us ask ourselves, "why me" or "if only." In Doing Life Differently, Luci challenges us to ask "what if?" and "why not?" Instead of thinking about what might have been, she leads us into envisioning the possibilities.

Both will help you to see your life differently.

SHE SAID: Yes, maybe you should write a book! That's a great idea, because I haven't seen too many resources out there that are geared for "older" single Christian women either. Most books about singleness are written for women in a younger demographic.
Recently on He Said-She Said
Have something to say about this article? Leave your comment via Facebook below!
advertise with us
Example: "Gen 1:1" "John 3" "Moses" "trust"
Advanced Search
Listen to Your Favorite Pastors