Hiding Naked: Afraid to be Seen With Our Clothes On
Ron L. Deal, smartstepfamilies.com
Thursday, February 21, 2013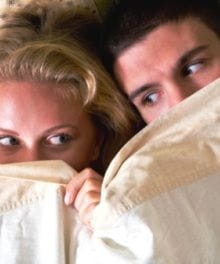 Tips for Dating Courageously
Here are some quick tips to help you avoid an independent togetherness dating arrangement.
1. Date with an eternal purpose in mind. Recognize that one ultimate purpose of marriage is to further disciple us into the image of Christ. This reality should change everything. For example, to date someone who doesn't share this value is to cast an idol between you and the throne of God. Eventually, in following the person, you will find yourself like Adam and Eve "putting on clothes" and hiding from God. Pursue relationships that keep you connected to God, not withdrawing from Him in shame.
2. Get healthy. Does your relationship history testify to the presence of fear in your life? Have you settled for independent togetherness relationships in order to "play it safe"? If this article has you examining yourself, take it before the Lord and ask the Spirit to help you to get healthy. Peel away the layers of your emotions and see what Lord wants to redeem in you so you aren't paralyzed by it any longer.
3. Take off the blind-fold. If you have been hiding naked in sexuality, it's time to move back to sexual purity until marriage. Even if you're in a cohabiting situation and regularly engaging in sex, it's time to stop. The only way to recover an objective perspective about the health of your relationship—and more importantly, about your true priorities—is to remove the mirage that sex before marriage produces. This level of obedience is very difficult and at times costly (e.g., increasing couple conflict), but I've never known anyone who regretted it (even if the other pulls away in anger because of your obedience then their true motives have been revealed and you, ironically, are less vulnerable to disappointment).
Maintaining a desire for the best in your dating life—and in your future marriage—starts by trusting that God has your best interest in mind when it comes to his boundaries around sex. God knows what a powerful force sexuality is in our lives. After all, he designed it. By declaring sexuality before marriage a sin, he is not being a simpleton or killjoy; he is trying to protect you from a shallow relationship and personal pain. The only question is, do you trust His motives and His insight? Saving sex till after marriage protects the objectivity of your dating, ripens your commitment to each other, and then after marriage, as a symbol of marital oneness blossoms in a pleasurable celebration of love. That's worth waiting for.
4. Single parents and those dating them should date with awareness that marriage forms a couple relationship and creates a family. In my book Dating and the Single Parent I point out that when kids predate dating, the couple's relationship inherently creates a competing attachment to the parent and child. The choice to be with the dating partner or children generally means the other is left waiting…and wondering how their relationship with you is being influenced by your relationship with the other. In addition, children commonly feel some insecurity by mom or dad's relationship with another person. Wise singles recognize this important dynamic and don't assume that becoming a couple necessarily means that they can become a family. They attend to both and take time assessing how the potential stepfamily relationships are developing.
5. Choose to risk, choose to love. At the end of the day, there are no guarantees on love. We live in a fallen world and you and I are fallen, imperfect people. Because of that, being in a loving relationship sometimes hurts. Marriage, to be successful, needs to an "all in" experience. Dating, on the other hand, is a progressively "moving toward all in" experience. Each new depth requires a little more openness, a little more trust, a little more risk. To pull up short of the risk required is to revert back to hiding. If you find the relationship unsafe at the new depth, then by all means, pull back. But then again, maybe it was your lack of risk that made it unsafe.
Knowing when to risk and when not to is never easy. One thing is for sure: a love that is motivated by self-preservation never matures into selfless love and independent togetherness dating relationships never find oneness.
Ron L. Deal is president of Smart Stepfamilies™, director of blended family ministries for FamilyLife®, a popular conference speaker on marriage and family matters, and author/coauthor of a series of DVD's and books for stepfamilies including The Smart Stepfamily, The Smart Stepdad, and his newest Dating and the Single Parent. Learn more at www.RonDeal.org and www.FamilyLife.com.
Publication date: February 21, 2013
Have something to say about this article? Leave your comment via Facebook below!
advertise with us
Example: "Gen 1:1" "John 3" "Moses" "trust"
Advanced Search
Listen to Your Favorite Pastors