How Do You Deal with Heartbreak?
Cliff Young & Laura MacCorkle, Crosswalk.com Contributing Writer & Senior Editor
Thursday, July 28, 2011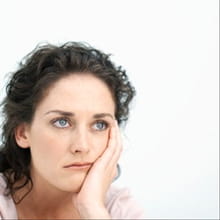 EDITOR'S NOTE: He Said-She Said is a monthly advice column featuring a question from a Crosswalk.com reader with responses from a male and female point of view. If you've got a question about anything related to singleness or living the single life, please submit it to He Said-She Said (selected questions will be posted anonymously).

QUESTION: My question is to help anyone, born again and followers of Christ, who are in a similar situation as this. How should we deal with heartbreak? How do you get over the other person when there is a disadvantage that you see that person every so often (such as church or work), and you cannot escape?

HE SAID: Heartbreak is difficult and not something that is easily "gotten over," nor should it necessarily be.
Many of us spend years searching for our lifelong spouse and once we (think we) locate "that" person, we open our heart and lives in an attempt to love and be loved. When our feelings are not reciprocated in the way we hope or want, we are heartbroken and need to take a period to heal, in our own time and in our own way.
What I have discovered through "trial and error" (a.k.a. dating) is most relationships don't work out (surprise!), and it would be beneficial for us to learn from and learn how to manage break-ups since we may encounter them again.
For many of us, it is a day to day journey of struggle, heartache, emotions and growth. Some journeys will be easier than others and some may last longer than others (oftentimes depending upon which side of the break-up you are on). However, your journey can and will lead to peace if you refrain from holding onto bitterness, spite, envy, jealousy and anger against your former "interest."
Do not judge and you will not be judged. Do not condemn, and you will not be condemned. Forgive, and you will be forgiven (Luke 6:37).
We may "think" we are hurting someone by having ill feelings toward them. In reality, we are only hurting ourselves by delaying our grieving, healing, forgiving and growing process. We shouldn't be acting or reacting like those of the world (and as we see on television reality shows), but rather living according to the instructions the Lord gives us in his Word.
The three most important things to have are faith, hope and love. But the greatest of them is love (1 Corinthians 13:13).

This passage comes from the end of the "marriage chapter" (where many marriage vows originate), and probably isn't frequented much after a break-up. However, we are told the most important things to have are faith, hope and love, of which love is the greatest.
This doesn't just apply to those getting married, but is also wise counsel in every situation (even heartbreaking ones), for those desiring to be married.
Have faith God has plans for you to prosper and not harm you (Jeremiah 29:11).
You may never know or understand why the break-up happened; however, God may be protecting you from this person, He may want you all to himself at this time or he may have someone better suited for you. Whatever the reason, God knows our beginning, the middle and the end and truly wants the best for us, as our Father. Have the faith to recognize it, believe it and live it.
Place your hope in God and his Spirit, not in someone else (Romans 5:5).
Have something to say about this article? Leave your comment via Facebook below!
advertise with us
Example: "Gen 1:1" "John 3" "Moses" "trust"
Advanced Search
Listen to Your Favorite Pastors