How to be Thankful When You Don't Feel Like It
Cliff Young, Crosswalk.com Contributing Writer
Tuesday, November 26, 2013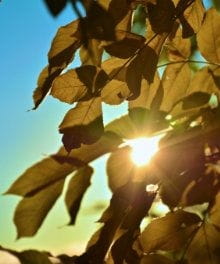 As we approach another Thanksgiving Day, I'm reminded of some of the Thanksgiving-related articles I've written over the years for Crosswalk.com and was having a difficult time trying to discover a "new perspective" on what I naively thought was one of the only politically undisturbed celebrations we still had.
Most of us probably remember making paper turkeys and pilgrim hats in grade school to commemorate the three-day feast when the Native Americans and Pilgrims joined together in the fall of 1621. The colonies continued to celebrate a day of Thanksgiving concurrently until President George Washington proclaimed November 26th as the national day of public thanksgiving and prayer in 1789.
President Lincoln issued a Thanksgiving Proclamation declaring the last Thursday in November as the day of "thanksgiving and praise" which stood seventy-six years until retailers complained to the President Franklin Delano Roosevelt to move Thanksgiving up a week in order to give shoppers an extra week of Christmas shopping after Thanksgiving.
For the next couple of years, states celebrated on different days until Congress finally passed a law in 1941 declaring Thanksgiving would officially take place on the fourth Thursday of November.
As I think about the progression of Thanksgiving in our country, I wonder how many of us have had our own personal evolution. In other words, "What has thanksgiving become to you?" Is it only something you do when you're supposed to, reminded of or "feel like"? Does it take place at one meal a year or has it become a way of life?
In this season of thankfulness (or any season for that matter), have you ever wanted to not be thankful? Was there a time you questioned God and His ways? Has your heart ever been so broken you cried out to God for an answer "why" before you would even consider giving "thanks"?
The reason I ask is thatI don't feel like being thankful right now.
Before you delete this article or give up your Crosswalk.com Singles alerts, I ask you to hear me out.
At the time of this writing, my older brother, Steve, is in a battle for his life with an aggressive cancer. In order for him to maintain the greatest level of comfort at this point, the doctors, along with him and his spouse, have decided not to treat it anymore. This will quite likely be his last Thanksgiving.
My heart breaks for his wife, four children and my mother. How do I help to make sense of this to my eleven year old nephew? How do I comfort a family during this (supposedly) festive time of year? What words can I say to ease the heart of my mother who is about to lose her oldest son? How do I encourage others (and myself) to continue to believe when it seems as if all of my answers are gone and prayers go unanswered? Why do I have to go through this all alone?
Even though Congress enacted a law to celebrate a day of "thanksgiving" for a specific twenty-four hour period, I am having difficulty with the thought of it.
I have studied the Bible and memorized Scripture enough to hear those verses reverberate in my head about "God not giving us more than we can handle," "His ways are not our ways," "He will comfort you in times of trouble"….etcetera, etcetera.
Those kinds of passages all seem good and fine when you're on the giving end rattling them off to others in times of need, but when you're the recipient (even if in your own head), it just doesn't seem sufficient.
Over the three months of tears and prayer since learning of my brother's diagnosis, our family and I have been encouraged, prayed for and supported by a number of close friends. It is through these relationships have I begun to recognize and understand how thankfulness can be grasped despite the feelings and circumstances we experience.
Have something to say about this article? Leave your comment via Facebook below!
advertise with us
Example: "Gen 1:1" "John 3" "Moses" "trust"
Advanced Search
Listen to Your Favorite Pastors