How to Transform Your Daily Commute into a Worshipful Experience
Barb Peil, Crosswalk.com Contributing Writer
Tuesday, December 11, 2012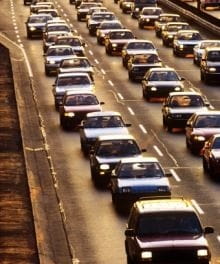 I wish I hated sin as much as I hate my morning commute.
That's what I said six months ago. Last year, I took a new job that is ten miles farther from home. When factoring in all the changes, I didn't think the extra miles would matter that much.
But everyone in the Dallas metroplex seems to be on the same mission as I was...and the same road. After a few months navigating that gridlock every morning, I was ready to drive off a cliff.
No matter the time, or the route, or the music or sermons I listened to—nothing calmed the frustration that built up in me every morning. And I don't have to tell you that anxious and worn out is not a great way to arrive at a job already brimming with its own challenges.
What was the real problem? I felt like I was being robbed. Two extra hours of the day that should have been mine were being poured out on the road like a cup of old coffee.
Something had to change.
Our cars are like our bubble worlds. Most of us sit in our bubble alone—alone with our radios and stereos, with our thoughts and worries. As we creep along, our bubble thoughts are colored by the reflection of brake lights.
Sitting in my bubble one day, I had an odd thought. What if this "delay" was by design? What if God was asking for my focused attention right there? Let the traffic creep; let the time pass—maybe the delay was intentional.
Perhaps like you, my relationship with God is the most precious thing I have. What if I invited Him to ride along with me in gridlock? How would it ease my frustration? What would He say to me if I gave Him access to my heart and mind?
I decided to test it. For one month, I would intentionally invest my 'bubble-time' with the Lord.
What Did I Learn?
First I just started to talk Him. I told Him about my day ahead. The deadlines. The meetings. The situations I was concerned about, and the people I would work with.
I asked Him to go before me in a conversation I would have that day with a difficult client. ...Give me discernment, Lord.
On other days...Help me work through this strategy with my team.
...Show me how to be most productive. Focused. Kind. Smart.
And on the petition went.
When I ran out of things to say, I was tempted to turn on the radio. But no, for one month I was committed to doing this commute differently.
Then slowly a change happened. I started to pay attention. I rested my right hand on the seat next to me, aware that the Lord was with me. Some would call this, 'practicing the presence of Jesus.' To me it felt like I had a carpool companion.
When I made myself quiet (and kept my eyes on the road), familiar Scripture verses came alive:
"The Lord is with you." (Next to you in this seat.)
"God is our refuge and strength, a very present help in trouble." (I will give you the right words for those conversations today. I will. Depend on me.)
"Be still before the LORD and wait patiently for Him." (I designed this pause to prepare you for the day.)
"The peace of God, which surpasses all understanding, will guard your hearts and your minds in Christ Jesus." (I am protecting you against every threat. Go confidently.)
I never imagined that "be still and know that I am God" could happen sitting still in traffic—hedged in by SUVs, trucks, and gas fumes. I slowly began to see this gridlock as grace.
My Rules for the Road
If it is true that life is lived in the gaps, then a gridlock commute is not stolen time—it's part of your daily story. More than just redeeming the time, this is an opportunity to develop your best relationship.
Have something to say about this article? Leave your comment via Facebook below!
advertise with us
Example: "Gen 1:1" "John 3" "Moses" "trust"
Advanced Search
Listen to Your Favorite Pastors