I Know Marriage Would Make Me Happy
Kris Swiatocho, The Singles Network Ministries
Tuesday, November 27, 2012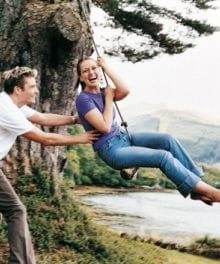 Joy comes from a life of prayer. Paul shares how he prays with joy. Prayer and joy are interchangeable. As you pray, growing your relationship with God, God will show you how to be joyful in all situations. As you practice being joyful, adjusting your attitude, allowing God to show you what He is doing, you will move into a place of such peace. Your prayer life will get better. You will see the changes that are being made in others, including yourself.
Joy comes from being Christ focused first and as a result, other-focused. As we focus on our relationship with God, seeking Him first, we will want to focus on bring others to Him. How powerful! You can just feel Paul's joy because he knows he is not alone. Jesus never meant for us to journey alone. There are others that also understand the purpose of life. I am so thankful for those who partner with me and my ministry. Those who are praying for me, encouraging me and helping me do the work of the Lord.
Joy is permanent. Once you have accepted Christ, joy stays with you. But we need encouragement to keep going in tough times. We need to be reminded that God has called, anointed, appointed, and equipped us to do HIS work. And it's not over till Christ comes back. Amazing... this work, this journey, this path is His path. Because I am doing what God has asked me to do, I can have the everlasting joy. It never will go away. It's not temporary or based on circumstances. It's forever, it's eternal.
"I thank my God every time I remember you. In all my prayers for all of you, I always pray with joy because of your partnership in the gospel from the first day until now, being confident of this, that he who began a good work in you will carry it on to completion until the day of Christ Jesus" (Philippians 1:3-6).
Joy is the same in all situations. Paul shares how even in chains, in a dirty, smelly, prison, he is joyful because he knows the reason he is there. We need to look at our lives, praying for God to manifest His joy in all situations so that we can smile even in pain, in hurt, in brokenness and even in the unknown. That even if we have some temporary happiness in our lives, it does not consume us. Joy is what consumes us.
"It is right for me to feel this way about all of you, since I have you in my heart; for whether I am in chains or defending and confirming the gospel, all of you share in God's grace with me. God can testify how I long for all of you with the affection of Christ Jesus" (Philippians 1:7-8).
Joy encourages growth towards Christ and each other. This joy of knowing the Lord will grow through love of God and each other. As we come together in this love, we become powerful in Christ, reaching even more for the Lord. As we serve, pray together, share, and talk we grow stronger. Do you remember the acronym you learned when you were a kid? J=Jesus, O=Others, Y=Yourself. Maybe it's time to put it up on the wall again.
"And this is my prayer: that your love may abound more and more in knowledge and depth of insight, so that you may be able to discern what is best and may be pure and blameless until the day of Christ, filled with the fruit of righteousness that comes through Jesus Christ—to the glory and praise of God" (Philippians 1:9-11).
As you walk with the Lord, knowing what joy really is, you will begin to look at "being happy" differently. You will begin to see that although those new pair of jeans make you happy for now - it is temporary. You will then seek to find things that bring you lasting joy. Like hearing a child laugh, helping a handicapped person carry their groceries to the car, seeing a rainbow after a horrible storm, or paying for the next person in line at Starbucks. Because this kind of happiness comes from God. It becomes about Him and not about you.
Have something to say about this article? Leave your comment via Facebook below!
advertise with us
Example: "Gen 1:1" "John 3" "Moses" "trust"
Advanced Search
Listen to Your Favorite Pastors