Kingdom Singleness
Renea McKenzie, Probe Ministries
Thursday, December 10, 2009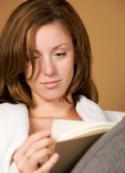 I think it's important to note that throughout her entire book, Smit never once devalues marriage or children—particularly within the church. And that is part of the point. Jesus came and demolished value hierarchies society had placed upon people. The apostle Paul states that this is to be the case particularly within the church: "There is neither Jew nor Greek, slave nor free, male nor female, for you are all one in Christ Jesus" (Galatians 3:28). Marriage and children and sex and singlehood and abstinence and romance each offer valuable life-pictures that teach the church about who God is and our relationship with him.
With that in mind, we are now ready to consider the romantic lives of unmarried folk with nuance. Smit's book challenges Christians to govern our romantic relationships with a Kingdom-perspective, reminding us to readjust our ingrown eyeballs: to look up toward God and out toward others. How do we do that when we're in love with someone who doesn't love us back?
The Ethics of Unrequited Love
Loves Me, Loves Me Not helps us learn how to behave virtuously in loving someone who does not return our romantic affection. It also helps us to behave virtuously toward someone who cares romantically for us, when we desire only friendship for him or her. Smit encourages her readers to consider true Christian charity in these situations and whether or not charity—or we might use the word agape—supports or rejects society's scripts for such roles. Whether we realize it or not, our society has our lines and stage directions all laid out. From film and literature alike we know how to behave if we find our love rejected. We will hold on to our rejected love by continuing to pursue until resignation is absolutely necessary; in which case, we resign to martyrdom upon the cross of love, sometimes in a gallon of ice cream and sappy movies, sometimes quite literally, leaving our legacy behind on the suicide note. Or, we simply move on. It is their loss, and undoubtedly there is someone out there who is more deserving of us.
Certainly both scenarios can be true. Sometimes we ought to continue to pursue and not give up too quickly; sometimes our love is misplaced upon someone undeserving and we must recognize the fact and move on. But motives matter. That is Smit's point.
How do we counter our ingrained selfish patterns and social scripts when we love someone who doesn't love us back? I'm not going to give away the whole book; I'm hoping you'll pick up your own copy. But I will pass on one practical tip from Smit: we must desist from wanting to posses the other person. Now, that sounds creepy in the restraining order kind of way; and you're thinking, I don't do that. But we all do it. We do it when we create a whole imaginary life with our crush—where we go on dates, how we sit together in church, how he kisses me hello, how she makes my friends envious. We also get possessive of our crush when we allow our hurt and jealousy to win over our charity (love) for him or her. Because if I didn't think he and his affections were (or ought to be) mine I wouldn't be jealous that, in reality, he's interested in another girl. But the truth is he's a person, not an object; and as a person he is free to be interested in whomever he chooses. And if I really love him as a person rather than lust after him as an object, I will honor, value, and even celebrate that freedom. Not that at times it won't be painful; it will be.
What about when someone loves us and we don't return their romantic feelings? What's easiest is to simply ignore that person. Don't return his calls. Pretend you didn't see her. Flirt with someone else right in front of her. Tell him you have to wash your hair. It's much more difficult to actually continue to be that person's friend, behaving in Christian love toward him or her, considering them to be better than yourself. Part of the reason this path is more difficult is because it makes you all the more attractive and difficult to get over, and it's easier to convince ourselves that we're doing the other person a favor by being a jerk.
Have something to say about this article? Leave your comment via Facebook below!
advertise with us
Example: "Gen 1:1" "John 3" "Moses" "trust"
Advanced Search
Listen to Your Favorite Pastors