Kissing Frogs: A Conversation with Kathleen Hardaway
Janet Chismar, Senior Editor, News & Culture
Tuesday, August 10, 2004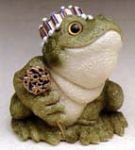 Janet:  Yes!
Kathleen:  Or, like Valentine's Day. I used to pretend the day didn't exist. Everybody but me was getting flowers. But you know what I've decided to do?  I've decided to encourage somebody else. When we encourage others, we don't usually feel sorry for ourselves.
Janet:  Do you ever think that there's a time to quit hoping? To believe that God has said "No" to our desire to marry?
Kathleen:  I think some people are very, very content with being single, but most women I talk to are not. I love the apostle Paul where he talks about "I'm content with whatever state I'm in." Another verse that I absolutely love says, "Godliness with contentment is great gain." That's kind of my prayer, that last verse. I mean, think about it. As we're growing in the Lord, we're growing in whatever He's called us to. I believe that's contentment. But that does not mean there are not times when it's difficult. That does not mean there are not times when it's painful.  That does not mean there's not hurt. I know a 50-year-old woman who never thought she was going to be married – a guy comes into her life, he was widowed, and now she's got an instant family. Anyway, again, I think it depends. I wish I could say, "I've arrived at contentment!" But that is not true. It's a process. It's a process.
Janet:  I know. I am very happy with my life, but there is still a part of me that longs for companionship, a godly man to grow old with. But only someone who loves the Lord.
Kathleen:  Right, right. A lady saw me on television and e-mailed me and said – you could just read the hurt in her life – she said, "Please tell whoever you talk to it's much, much better being single than being in the wrong marriage." She told me, "I thought this man was a Christian, but now, I'm living in hell." She absolutely was devastated, you could tell.
Janet: A pastor at my church back in D.C. used to say, "Better to be single than married to a jerk." 

Kathleen:  That is it exactly. I was going through a period of time around 30-ish when it was really hard being single. I was also going to a prayer group. By the time I got out of there – they were talking about how difficult their marriages were – I thought, "I am doing just fine." You know, I think that's what Paul's talking about. It's better to be content. You hear a lot about married women who are lonely too. Their husbands are not what they thought. Their marriages are very painful; their husbands say very hurtful things.
Janet:  Speaking of Paul, he says it's better to marry than burn with passion. How do we deal with this? We have passions, and want to marry, but it's not so easy to just rustle up a husband. I mean they had arranged marriages back then. How do we handle the physical stuff?
Have something to say about this article? Leave your comment via Facebook below!
advertise with us
Example: "Gen 1:1" "John 3" "Moses" "trust"
Advanced Search
Listen to Your Favorite Pastors