Kissing Frogs: A Conversation with Kathleen Hardaway
Janet Chismar, Senior Editor, News & Culture
Tuesday, August 10, 2004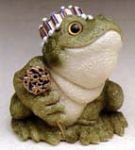 Kathleen:  That is absolutely a process, because I do not have a perfect life. Some people haven't "kissed a lot of frogs." I did, and so it's kind of like eating chocolate cake. You know what it tastes like and so you have to deal with that.  But as a believer, if you love Him with all your heart, soul and mind, if you have passion for God, if the Holy Spirit dwells in you, then you can have a passion for purity. I don't understand women who are sleeping around a lot, then in church the next day. I know women like that. They've gotten themselves into a trap. They're so dependent on a man. I understand that – I once was dependent on a man to make me happy. But it doesn't take long to realize that your joy has to be in the Lord. Psalm 16:11 says, "In His presence is fullness of joys." In His presence. 
We're just in a sex-crazed society. Look at the show, "Sex in the City." All of a sudden, women are just throwing it to the wind so that we can be just like men. "I don't care about you, I'm just going to go to bed with you." This is the image our younger generation is getting, and yet they are miserable. They are unhappy, because as Jesus says in the Beatitudes, those who hunger and thirst for righteousness shall be satisfied. There's where the satisfaction is. The satisfaction is in the Lord, and in righteousness, and holiness and purity.

It is a process and you have to die to those desires and to yourself, and you also don't trigger them. Second Timothy 2:22 says, "Flee youthful lusts." Flee cable or romance novels or soap operas – whatever your triggers are. There's a point where I will walk out of the movie theater. Why bring up those desires? You have to think about what you're feeding your mind.  Don't be daydreaming. Women so much desire a relationship and romance; you know that's all connected. That's our nature. God, I believe, made us that way, to be relational. So, you know, when I talk to the Lord, I am so honest. I tell him, "This is hard."
Janet:  We should close by talking about your book. Great title! What prompted it?
Kathleen:  That is a fabulous question because even though it's written with a humorous title, it's a very serious subject for countless women. Over 44 percent of women are single. That is equivalent to 47 million women. And that number's growing.  I had never thought about writing a book. The idea totally came from God. There are great books on being significantly single, but that's not where I've been most of my single life.  So I could relate more to this title. Plus I wanted to be able to crossover more and reach anybody who's lost. I wanted them to be able to pick it up and not automatically think, "Oh, a Christian book. I'm sure not gonna read that."
Janet: [laughs] Exactly! Now, actually getting into the book – is it written more for those who never have married? Or would single moms relate too?
Kathleen:  Chapter 3 is called "Did Your Prince Leave?" There are three heart-wrenching stories about a single mom, a woman who was divorced, and then a widow.  Probably the underlying thread about all three of those women is that joy does come. For one of the ladies, it looked like a hopeless situation. Her husband gave her divorce papers on her 40th birthday. She had not worked in 15 years. I didn't mince words with her testimony … about the tears and the hurt and the heartbreak. Yet, today, her children are all grown, they're walking with the Lord and it's just so neat to see how the Lord provided for her. I'm passionate whether a woman's been divorced or a single mom, because even though I don't have that same situation, I can still have that same heart.
Have something to say about this article? Leave your comment via Facebook below!
advertise with us
Example: "Gen 1:1" "John 3" "Moses" "trust"
Advanced Search
Listen to Your Favorite Pastors