Laughing at the Future
Carolyn McCulley, Author & Contributing Writer
Wednesday, February 21, 2007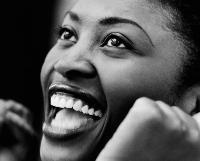 Strength and dignity are her clothing, and she laughs at the time to come. — Proverbs 31:25
I've always liked the sentiment of a popular wedding song, "Grow Old with Me." The opening lines are, "Grow old along with me, the best is yet to be." Though I was generally aware that the opening lyrics were from a poem, I had not read the full poem until recently. Now I understand why the song's lyrics stop short of Robert Browning's complete thought in the first stanza:
Grow old along with me!
The best is yet to be,
The last of life, for which the first was made:
Our times are in his hand
Who saith, "A whole I planned,
Youth shows but half; trust God: see all, nor be afraid!"
Without the acknowledgement of God's loving providence for our lives, we just have the sweet, vaguely hopeful sentiment of the first two lines. But in the third line, the poet throws open the doors and ushers truth into the midst of the frilly emotion – God has planned a whole life, of which youth is only a part. Our times are in His hands and He is fully worthy of our trust. There's nothing random about our futures.
Jim Elliot once said, "Wherever you are, be all there." Be all there. That can seem like bumper-sticker wisdom – intriguing, but ultimately without much depth. However, when you consider Jim's brief 28 years and his demise as a martyred missionary to the Auca Indians of Ecuador, this sentence resonates with godly truth. Wherever you find yourself in God's sovereign plan for your life, be all there. We never know how much time we have, but we can be fully engaged in each day we have – living life with an eye toward the eternal.
No doubt we all know women who live like grayed-out software functions – visible, but not completely accessible. We are probably like that at different times, too. Despondency drains us of vibrant colors and energy, leaving a dotted-line impression behind. During those times, we are a far cry from the loud boldness of the woman clothed in strength and dignity who can laugh at the days to come.
Why don't we smile at our futures? I think it's because we view that time with the vague dread of a blind date – we're unsure of whom we've committed this time to, where we're going, and whether we're going to like this time together. But I think we'd have a big smile on our faces if we viewed our futures with the happy idea of a honeymoon – anticipating uninterrupted time with the one we love in a beautiful setting. Surely this is what we will experience in eternity, and we will have foretastes of this joy throughout all of our years on earth.
Have you ever noticed how many times the Bible records the faithless reactions of God's people to their uncertain futures, and how many times God tells them to recount His faithfulness in the past to them? As John Piper says, this is because "past grace is God's down payment on the fullness of future grace." He continues:
Actually that image of a one-time down payment doesn't quite work. Past grace is continually accumulating every day. The infinite reservoir of future grace is flowing back through the present into the ever-growing pool of past grace. The inexhaustible reservoir is invisible except through the promises. But the ever-enlarging pool of past grace is visible; and God means for the certainty and beauty and depth to strengthen our faith in future grace.
As we face our futures, let's examine two common temptations to fear these coming days: being alone, and death.
Going on Alone
I think that when mankind was banished from the Garden of Eden, it bred in us a legitimate fear of being alone, of being separated from God's presence. But thanks to Jesus, we are fully reconciled to God and will never be alone again. We have full assurances of God's constant care for us. I like how Jerry Bridges presents this truth:
Have something to say about this article? Leave your comment via Facebook below!
advertise with us
Example: "Gen 1:1" "John 3" "Moses" "trust"
Advanced Search
Listen to Your Favorite Pastors