Laughing at the Future
Carolyn McCulley, Author & Contributing Writer
Wednesday, February 21, 2007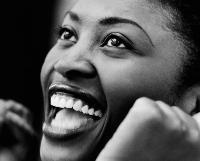 The good news is that as a Christian, death is only a doorway into the resurrection life of Christ. We no longer have to be slaves to the fear of death. Hebrews 2 says that through death Christ destroyed "the one who has the power of death, that is, the devil, and deliver[ed] all those who through fear of death were subject to lifelong slavery."
While we shouldn't fear death, we should fear dying with regrets. We should fear living small, self-centered lives that will earn few eternal rewards. As Randy Alcorn writes:

Evangelicals reject the doctrine of a second chance for unbelievers. We recognize there's no opportunity to come to Christ after death. But it's equally true that after death there's no second chance for believers. There's no more opportunity for us to walk by faith and serve our Lord in this fallen world.
We can't do life here over again. … When the trumpet heralds Christ's return, our eternal future begins and our present opportunity ends. If we have failed by then to use our money, possessions, time, and energy for eternity, then we have failed – period.
"But we'll be in heaven and that's all that matters." On the contrary, Paul spoke of the loss of reward as a great and terrible loss. The fact that we're still saved is a clarification, not a consolation – "If it is burned up, he will suffer loss; he himself will be saved, but only as one escaping through the flames" (1 Corinthians 3). Receiving reward from Christ is an unspeakable gain with eternal implications. Forfeiting reward is a terrible loss with equally eternal implications. …

Isn't it amazing that the God who spared us His righteous wrath by sacrificing His Son would also then reward us for the deeds we do that He planned and empowered us to do through His grace? The promise of reward in heaven is the future grace that is flowing back into the present through the opportunities we have here to do good to one another. John Piper says this is why he thinks about what comes after death. I have highlighted one section of his book, "Future Grace," that spoke to me specifically about how considering life after death affects my singleness now: "We don't dream our most exciting dreams about accomplishments and relationships that perish. We don't fret over what this life fails to give us (marriage, wealth, health, fame). Instead, we savor the wonder that the Owner and Ruler of this universe loves us, and has destined us for the enjoyment of his glory, and is working infallibly to bring us to his eternal kingdom. So we live to meet the needs of others, because God is living to meet our needs (Isaiah 64; Isaiah 41; 2 Chronicles 16; Psalms 23)."
We don't fret over what this life fails to give us because God loves us. This is why the Proverbs 31 woman laughs at the time to come – being so loved, she understands the best is yet to come.


Adapted from "Did I Kiss Marriage Goodbye? Trusting God with a Hope Deferred" by Carolyn McCulley. © 2004 by Carolyn McCulley. Published by Crossway Books, Wheaton, Illinois. Used by permission.


Carolyn McCulley works for Sovereign Grace Ministries in church and ministry relations. She is also an author ( "Did I Kiss Marriage Goodbye? Trusting God with a Hope Deferred") and blogger (solofemininity.blogs.com). Carolyn is also a member of Covenant Life Church where one of her favorite ministries is the single women's discipleship program. She highly recommends the resources for singles from the New Attitude conference and blog.



Have something to say about this article? Leave your comment via Facebook below!
advertise with us
Example: "Gen 1:1" "John 3" "Moses" "trust"
Advanced Search
Listen to Your Favorite Pastors