Looking at Life from 1,000 Feet: How to Keep a Godly Perspective When Life Is Hard
Barb Peil, Crosswalk.com Contributing Writer
Thursday, August 16, 2012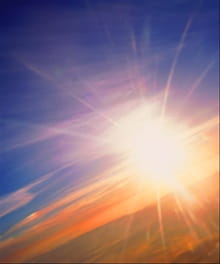 If we could observe our lives from a thousand feet, we'd realize that God is at the center of our story, not confined to the margins. He doesn't wait on the fringes for us to call on Him in emergencies. He is today working a plan that will cause our hands to fly over our mouths in awe when we finally see the whole landscape.
I promise you this is true. Even better, God promises.
God promises a future and a hope. He promises sustaining grace for every trial. He promises His presence with you—as close as your heartbeat and as near as your breath. He promises to never leave you. And never to walk away.
So today, allow God to take away your fear of the unknown and replace it with a calm, quiet confidence. He knows the path of your life from a thousand feet as well as the route that you take on your way to work today.
So, if you're struggling today, I've got good news for you. Spoiler alert! Not to wreck the ending, but it's going to be OK. And if it's not OK yet, then it's not the end.
My friend Ben closed his email to us with Job 23:10: "But [God] knows the way that I take; when he has tried me, I shall come out as gold." Seems to me that Ben has gotten a glimpse of his life from a thousand feet.
You may not see it, but . . . the best is yet to be. So, given our horizontal tendencies, how does this help us live today?
This helped me. A poem by Minnie Louise Haskins caught public attention in 1939 when Queen Elizabeth I handed a copy to her husband, King George VI (same king as in the movie, the king's speech) and he quoted it in his Christmas broadcast to the British Empire.
"I said to the man who stood at the Gate of the Year,
'Give me a light that I may tread safely into the unknown.'
And he replied, "Go out into the darkness, and put your hand into the hand of God.
That shall be to you better than light, and safer than a known way."
You make known to me the path of life; in your presence there is fullness of joy. Psalms 16:11
Keep these reasons in mind when you're called to suffer.
We suffer:
• So God may show us how much we want what He wants (James 1:3).
• So God may motivate us to follow Him (Hebrews 5:8).
• So that we might be a comfort to each other (2 Corinthians 1:6).
• To keep us from doing our own thing that could hurt us (2 Corinthians 12:7).
• So that we might point others to God's amazingness (1 Peter 4:16).
• So that we may identify with Jesus a little more (Philippians 3:10).
• So that our faith might grow a little stronger (1 Peter 5:10).
• So that others would see us and be compelled to follow us to Jesus (2 Timothy 2:10).
Have something to say about this article? Leave your comment via Facebook below!
advertise with us
Example: "Gen 1:1" "John 3" "Moses" "trust"
Advanced Search
Listen to Your Favorite Pastors