Meet Your Personal Mentor
Christopher L. Burge & Pamela Toussaint, Authors
Thursday, March 03, 2005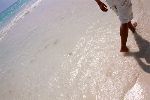 You shall receive power when
the Holy Spirit has come upon you.
— Acts 1:8
Your sweetheart, an experienced pilot, surprises you with a helicopter ride one beautiful spring Saturday. It's a clear, blue-sky day, so Sweetie decides to let you fly the helicopter for a while. You enjoy the exhilarating feeling of commandeering a helicopter and soaring to new heights. But while flying at a high altitude, you encounter storm clouds that cause the helicopter to bump and slide. The turbulence forces you to give the controls back to Sweetie. What began as an exciting excursion turns into a rough ride that leaves you humbled but glad you could hand things over to someone who knows exactly what to do.
Most people would gladly give up the controls in the above situation. (A few would indignantly continue to fly the copter until forced into a crash landing — but this is not you!) Yet we resist giving up control of our lives to God. Instead, we clutch our Palm Pilots, filling them with goals to pursue, social appointments to attend, obligations to fulfill, "Oprah" to watch, and so on. Often, our agenda is loaded with genuinely good things. So what's the problem? Well, the Holy Spirit not only wants to fly our helicopter, He also wants to rock our world! He is the ultimate Relationship Counselor. But, gentleman that He is, He'll only assume the role of Personal Mentor in our lives if we invite Him to do so.
And most of us don't.
In his groundbreaking workbook "Experiencing God," Henry Blackaby asks a probing question: "Suppose you had planned to go fishing or watch Monday night football or go to the shopping mall. Then God confronts you with an opportunity to join Him in something He wants to do. What would you do?"1 In brief, the possible answers include:
1. Finish my plans, then see if I can fit God's in.
2. Assume that it wasn't God asking.
3. Try to do both.
4. Adjust my plan to God's plan.
Most of us know that number four represents the right answer, but is that really what we do? It can make all the difference, particularly when it comes to our love life.
What Can He Do for You?
Jesus told us that the Holy Spirit's presence in our lives would bring us power.seeActs1:8 Paul said that the same power that raised Christ from the dead also lives in us to guide us into all truth.seeJohn16:13 We need His guidance to make right choices about whom to date or court and how to handle ourselves within the relationship.
After Jesus's death and resurrection, He told the disciples that He was going back to the Father and that the Holy Spirit would come and take on the teaching and mentoring role that He had played in their lives. In other words, we have a person of the Godhead, the Holy Spirit, whose specific task is to be our Personal Mentor (PM for short). Jesus knew that we would need the Holy Spirit's help to understand how to live out our Christian faith. We did not receive a brain dump of all we need to know to live a fruitful, God-honoring life on the day we invited Him into our heart. God's revelation of His will is progressive. We will still be learning new things about Him when we're eighty.
Great, you say, but what does that mean for me now?
It means you have a powerful Partner, Mentor, and Relationship Counselor who is always accessible to you. Jesus told His disciples, If you love me, obey me; and I will ask the Father and he will give you another Comforter, and he will never leave you.John14:15-16TLB The Holy Spirit will always be there to comfort you, but the Amplified Bible translation of the same set of verses teaches us that He is also our Counselor, Helper, Intercessor, Advocate, Strengthener, and Standby. Here are some ways He functions in those roles:
Have something to say about this article? Leave your comment via Facebook below!
advertise with us
Example: "Gen 1:1" "John 3" "Moses" "trust"
Advanced Search
Listen to Your Favorite Pastors