Meet Your Personal Mentor
Christopher L. Burge & Pamela Toussaint, Authors
Thursday, March 03, 2005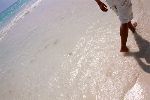 Remember, the Father delights in you. He woos you daily. If you've made a commitment to Him, you are accepted in the Beloved.Eph1:6 That is your position as part of the finished work of Christ on the cross. You are already in the clique, so to speak, and because of that you qualify for the awesome kingdom privilege of having the Holy Spirit at your disposal. He speaks to you because you belong to Him.seeJohn10:27 Don't let any well-meaning yet unenlightened friends convince you otherwise. Our PM is relentless about getting us to agree with how fearfully and wonderfully we are made and is always seeking to exchange our inner self-portrait with the one Jesus sees.
Peruse the scriptures at the end of this chapter to gain a more correct understanding of how God sees you. Engrave them on your heart. Always know that you are a son or daughter of the King of kings, and that He is not a high priest that is unsympathetic to our humanness.seeHeb4:15 He came to earth just to be with us. He experienced every possible temptation yet did not sin. He has more than earned your ear, so give Him some talk time.
The quicker we sign up and submit to the changes He wants to make, the quicker we see results. If you listen to your Personal Mentor, He will immediately go to work on you and in you. Not only is He a proud parent who is totally in love with you, but He also wants you to be a fit partner for the work God prepared in advance for [you] to do.Eph2:10NIV He wants to use your desires, gifts, and abilities, appropriately fitted to your mate's, to share the love of God and the message of salvation. But He cannot work powerfully through you until you have given Him the chance to work deeply in you. That's why, even though every believer has access to the Holy Spirit, not all Christians experience the many benefits He has to offer. To turn this around, we need to be open to receiving Him, then get quiet, listen, and be willing to submit to what He says.
Get Quiet and Listen
When you're ready to watch a movie at home, you gather all the things you need to make the event enjoyable and comfortable: the big-screen television, the gourmet popcorn, the ten-thousand-calorie pizza, and the oversized chairs. In a similar fashion, when you want to have a serious talk with someone, you're likely to choose a quiet place where you won't be distracted, and you might even bring notes to make sure you talk coherently about whatever is on your mind.
It works the same way to cultivate your relationship with the Holy Spirit. The time you spend with Him is the most important meeting of your entire day, so do what is needed to make it successful. You need commitment in getting to know Him, consistency in meeting with Him, and honesty in talking to Him. Take time out of every day to wait in His presence, compliment Him, thank Him, ask Him questions, and wait for His answers. Keep doing it until your time together becomes a habit that you just can't live without.
Encouraging Word
You hear from Him because you belong to Him. seeJohn10:27
Do you believe this? Examine any issues you may have
with this statement and take them to God.
Establish an ongoing dialogue with God; let your PM speak to you in your quiet times and throughout the day. Remember that God wants to talk to us; we do not have to assault the throne to get Him to chat. The book of Revelation tells us that He stands at the door and knocks, like a polite houseguest.seeRev3:20 He will not barge into our busy lives, break down the door, grab us by the shoulders, and make us listen to Him. So if we want to hear Him, we have to pay attention and listen carefully. James tells us we should be swift to hear, slow to speak.1:19 God speaks in a still small voice.1Kings19:12 But with persistence and practice, we can strengthen our listening skills. (Good listening skills will also come in handy with your future mate, as we discuss in Rule 15.)
Have something to say about this article? Leave your comment via Facebook below!
advertise with us
Example: "Gen 1:1" "John 3" "Moses" "trust"
Advanced Search
Listen to Your Favorite Pastors