Meet Your Personal Mentor
Christopher L. Burge & Pamela Toussaint, Authors
Thursday, March 03, 2005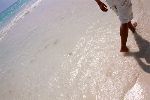 If you are not sure that you can recognize or hear God's still small voice, get to know Him better and learn of Him until you are.seeMatt11:29 Here are some specific ways you can strengthen your relationship with God:
Get your praise on. Praise is when you reach up to kiss God and thank Him for who He is and what He's done for you. It is the precursor to worship, which is a deeper intimacy with Him. In the University of praising God, where do you stand? Will you graduate cum laude: praising Him on Sunday mornings and when everything in your life is spiffy? Magna cum laude: praising Him even when things are just so-so? Or summa cum laude: able to praise Him though life's killing you (like the apostle Paul in the dungeonseeActs16:25-27)? Perhaps you're not close to graduating yet. That's okay; get going today! The level of your praise will reveal the level of your relationship with God.
Make true confessions. Jesus taught us to pray and ask His forgiveness for our ugly actions each day and to pray for those who hurt us each day. Don't even think about asking Him for something if you are harboring unconfessed sins or grudges. Confess sins of omission (things you didn't do, but should have) and commission (things you did do, but shouldn't have).
Make His Book your favorite book. My (Chris's) relationship with God deepened when I committed to reading through the entire Bible, book by book. (We call it our Sixty-Six-Book Love Letter.) I chose a version of the Bible I knew I could understand easily, The Living Bible translation, and as a naturally early riser, I was up at dawn rummaging through it.
On the other hand, I (Pam) use several translations and a concordance when I'm reading the Bible so I can better capture the nuances and principles. I highlight in yellow any scriptures that God brings alive to me, and then I memorize them. You might need another approach entirely — find your own groove. We pray the Bible becomes the best-read Book on your bookshelf!

Suggestion: Read a psalm in the morning and a chapter of either the Old Testament or the New at night — or vice versa if you have more time in the morning. This strategy breaks the text down into bite-sized morsels you can chew on without cracking your teeth. After a while, you'll end up reading much more than you planned. (Fortunately, you can't OD on God's Word!)
Have fireside chats. During your time with God, thank Him and make requests of Him based on what He just showed you in the Word. Talk about whatever He brings up in your spirit. God will often use a scripture you've read to tell you something personal (that's called rhema). Conclude your time with more thanks.

If your PM tells you something that you need to do during your quiet time, submit to it.

Cultivate Submission

Submit has become a dirty word both inside and outside of church circles due to its misuse. We hope that it will enjoy a revival as it is critical to our relationship with God and to our ability to maintain a lifelong love relationship. Remember, Jesus was able to submit to the torture of dying on the cross because of the Holy Spirit's power. He lives in us and gives us that same power.
Submission is the residue of true love. When we know that God loves us unconditionally and totally, we won't find submission to Him difficult. (Love is the quality that's often missing in marriages where there's "trouble with submission.") The prefix sub means to "come under." A subway runs under the ground, a subcutaneous wound is one that is under the skin, and so on. Webster says that submit means "to yield to governance or authority." We tap into the power of our PM when we submit to His authority and guidance in our life. It's essential to cultivate this ability to yield to the Holy Spirit if we want to grow spiritually — and to have a healthy relationship with Mr. or Mrs. Right.
Have something to say about this article? Leave your comment via Facebook below!
advertise with us
Example: "Gen 1:1" "John 3" "Moses" "trust"
Advanced Search
Listen to Your Favorite Pastors