Overcoming Fear and Living by Faith
Cliff Young, Contributing Writer
Wednesday, September 13, 2006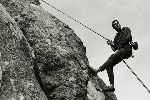 Have you ever faced a decision that seemed to be so crazy that you wondered why you were even considering it?  A decision that, according to the rest of world, seemed so "un-wise" that you knew God had to have something to do with it?  A decision so big that you knew it would change your life, forever?
I have.
But before I get to that, I believe one of the factors that keeps some singles from living a life that is totally sold out for the Lord and totally at peace with God (at the same time), which I believe are interconnected, is fear. 
Fear of making decisions by yourself
Fear of being alone
Fear of not having children
Fear of relationships
Fear of not having enough money
Fear of parents dying
Fear of dying alone
All of those thoughts have crossed my mind at one time or another and I don't think I'm alone.  In fact I know that I'm not alone.
Often times we, as Christians or not and or single or not, are faced with some sort of real life fear.  For some, it becomes so debilitating that basic functioning through a day seems like the largest of ordeals.  For others, it's a lifelong struggle, one of many.
I have been successful professionally and in ministry, have stayed physically fit and in good health, continue to love and fear the Lord, but I have and continue to struggle with bouts of fear.
In my life I've discovered that my fear, when broken down, is usually nothing more than a lack of faith:
Lack of faith in my abilities and talents
Lack of faith in my gifts
Lack of faith in my situation
Lack of faith in others
Lack of faith in God
According to Hebrews 11:1 (NLT), faith is the "confident assurance that what we hope for is going to happen.  It is the evidence of things we cannot yet see."
That means that I don't have confidence in what I hope for and I can't find any evidence in things I cannot see.  But should that keep me from living a life that God promises to all that believe in him?  It shouldn't, but it does.
There were many people throughout the Bible who struggled with the same fears, but eventually, they overcame them and had the faith to do some amazing things.  Through Hebrews 11 (NLT), we are shown example after example of everyday people making huge professions of faith through their actions:
"It was by faith that Noah built an ark to save his family from the flood" (v. 7)
"It was by faith that Sarah together with Abraham was able to have a child" (v. 11)
"It was by faith that Abraham offered Isaac as a sacrifice" (v. 17)
"It was by faith that Joseph, when he was about to die, confidently spoke of God's bringing the people of Israel out of Egypt" (v. 22)
"It was by faith that Moses' parents hid him for three months" (v. 23)
"It was by faith that Moses, when he grew up, refused to be treated as the son of Pharaoh's daughter" (v. 24)
"It was by faith that the people of Israel went right through the Red Sea" (v. 29)
"It was by faith that the people of Israel marched around Jericho seven days" (v. 30)
And the list goes on.
Each of these and many more have taken a step by faith.  None of these decisions were easy.  None of these decisions came without an internal struggle.  None of these decisions were popular.  None of these decisions came without sacrifice.  The common denominator, though, was faith in the living God, hearing His voice, and trusting Him explicitly.
Many times we are so consumed with ourselves and our situation that we don't take time out to spend in the Word and present our requests to the Lord – "Let my supplication come before thee: Deliver me according to thy Word" (Psalm 199:170 KJ).  And then take the time to wait and listen for an answer from the Lord – "But they that wait upon the Lord shall renew their strength" (Isaiah 40:31 KJ).
Have something to say about this article? Leave your comment via Facebook below!
advertise with us
Example: "Gen 1:1" "John 3" "Moses" "trust"
Advanced Search
Listen to Your Favorite Pastors